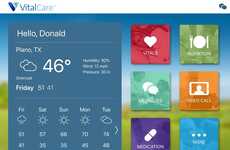 Remote patient monitoring becomes more common in the healthcare space
Trend - Remote patient monitoring systems are on the rise as the healthcare industry looks to increase the safety of both doctors and patients, as well as remove barriers related to accessibility when it comes to medical care.

Insight - The COVID-19 pandemic has brought about the re-evaluation of standard practices in every industry, with people and businesses alike now understanding that many systems are not designed to protect against or function during global emergencies. The healthcare industry in particular has been impacted, and practitioners and patients within this space are increasingly seeking out both accessible and safe treatment and care processes.
Workshop Question
- How can your brand better adjust for a post-COVID world?