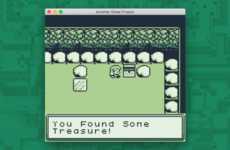 Brands are launching platforms that allow consumers to build movies and games
Trend - Developers are debuting creative experiences that allow consumers to build their own movies, stop-motion animations, games, and more. In doing so, brands are able to better engage individuals through tech-powered activities that are novel and interesting.

Insight - As digital technology becomes more readily available to a larger demographic and DIY culture resurfaces as a form of entertainment, consumers become interested in testing out tech as a means to design their own products. Individuals feel empowered in exploring new avenues of creativity as technology becomes more accessible, lending itself as a tool to those who do not necessarily have formal education. Compelled by novelty and a desire to be technologically literate in an increasingly digital world, individuals opt-in for hands-on projects that test and expand their knowledge.
Workshop Question
- How might you harness DIY projects to help consumers attain knowledge and build skills?
4 Featured, 31 Examples:
38,765 Total Clicks
Date Range:
Jun 20 — Jun 20