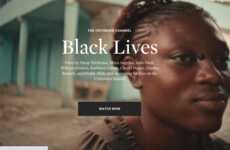 Stories from Black creators are spotlighted as calls for inclusion grow
Trend - As people around the world protest the inequalities that Black people face in their countries, creative industries are finally hearing the call of activists and people who are outspoken about the need for Black people's voices in storytelling. Now, some brands are investing in and spotlighting the voices of Black creators.

Insight - In countries where Black people are minorities, their histories and voices have often been covered up, ignored or whitewashed in order for unequal systems to remain in place. Black people and activists have long known this, and now their growing number of allies are recognizing this pattern too. These communities are continuing to push for equal representation, treatment and fairness in many industries--and storytelling is especially crucial as it offers perspectives that have long been overlooked in the mainstream.
Workshop Question
- How is your brand responding to the growing call for true inclusion and representation?
4 Featured, 33 Examples:
52,713 Total Clicks
Date Range:
Jun 20 — Jun 20