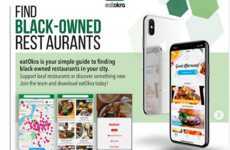 Brands are making it easier to support Black-owned businesses
Trend - In response to recent social injustices profiled on social media and the news, brands are launching directories to help consumers identify and support black-owned businesses. These platforms showcase a range of businesses from restaurants and salons to banks and museums.

Insight - In recent years, social media has had an impact on the visibility of the systemic injustices committed against the Black community. In the wake of the Black Lives Matter movement, many are looking for ways to support the Black community in place of their traditional retailers, and are invested in actionable ways to protest against white supremacy, and one of these ways is by "voting with their wallet." People's anger and frustration has led them to financially support individuals, businesses and communities that are most affected by racial injustice.
Workshop Question
- How can your brand serve under-represented communities?
4 Featured, 29 Examples:
39,795 Total Clicks
Date Range:
Jun 20 — Jun 20