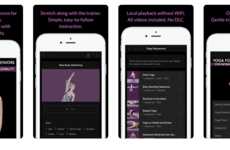 Apps that are typically used by younger demographics see a boost among seniors
Trend - With COVID-19 being risky for senior citizens in particular, stay-at-home orders are especially important to keep this demographic safe. Thus, they're having to adapt just as much as everyone else when it comes to staying healthy and connected with others. As a result, brands that offer online services like virtual exercise and conferencing are seeing a boost in senior engagement.

Insight - In many ways, senior citizens have been hit harder than other demographics when it comes to the COVID-19 pandemic. On top of being more likely to face serious consequences as a result of contracting the virus, they've also been more psychologically harmed by the isolation that's been imposed on people around the world, particularly those who live in care homes. Thus, those who have the capacity to engage in the platforms that are keeping people entertained and connected are going to be a priority for this older generation as well.
Workshop Question
- How is your brand finding ways to engage under-served demographics?