OUR BEST INNOVATION KEYNOTE SPEAKERS & FUTURISTS
Our top-rated innovation keynote speakers and futurists will bring your event or webinar to life
with our most popular speeches on innovation, custom trend presentations and workshops.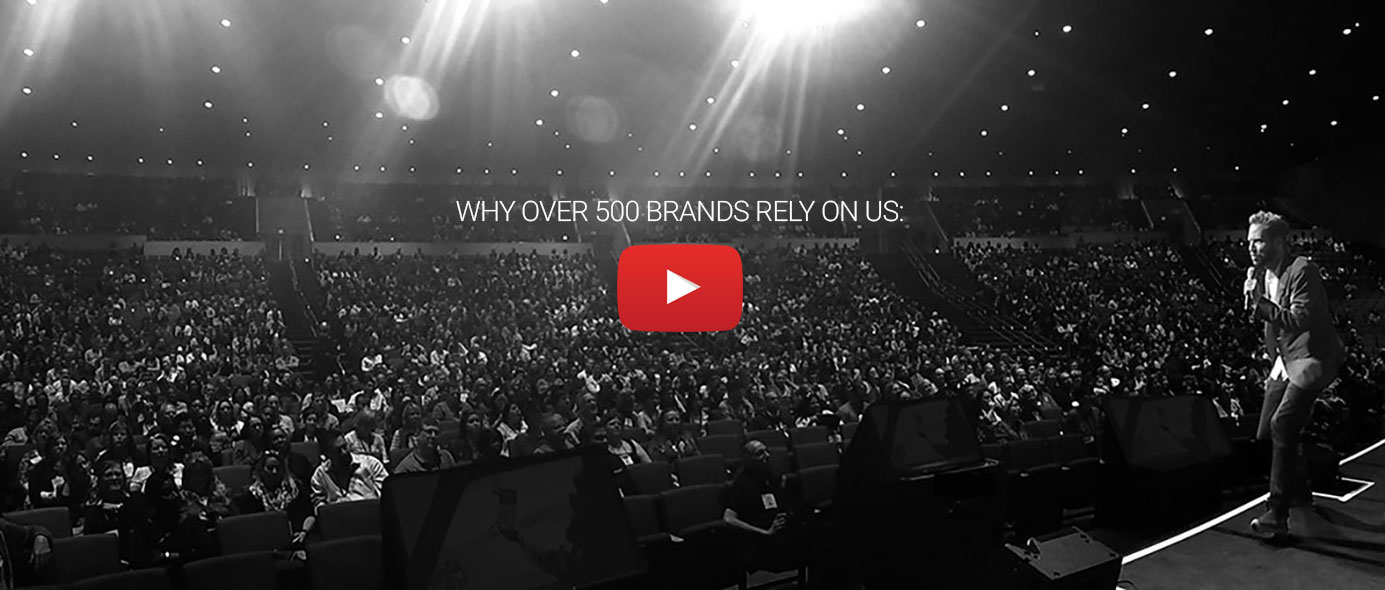 THE BEST INNOVATION INSIGHT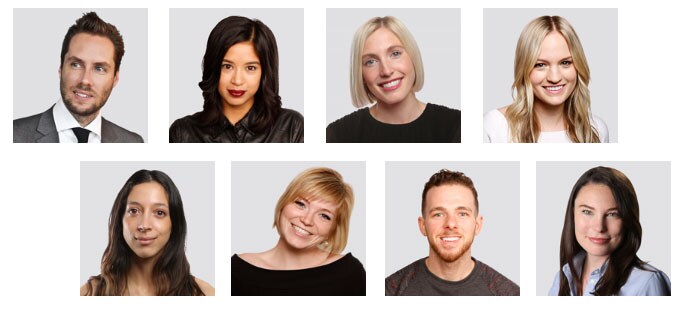 When Red Bull, MTV, Disney, Starbucks or Google need to inspire their teams, they choose Trend Hunter's top keynote speakers because of our 3 secret weapons.


1. Exciting, Data-Driven Content - With Trend Hunter, you aren't getting some random keynote speaker's creative thoughts about the future. You're getting cutting-edge insights distilled from 150,000,000 people, brought to life with one of our best innovation keynote speakers. Our disruptive innovation keynotes based on the world's most inspiring content, and we have 3 billion pageviews to prove it.

2. Actionable Takeaways - Our business is helping the world's leading innovators to create the future, so our content is deeply rooted in action. Each innovation keynote includes tactics, frameworks and next steps, based on our experience helping NASA prototype the journey to Mars and helping Google, Starbucks and Adidas outinnovate their competitors.

3. Contagious Enthusiasm - If you want to inspire the future, harness creativity and bring innovation to life, you need energy. Our innovation keynotes are designed to turn research insights into excitement so you can make innovation and change actually happen.


Jeremy Gutsche
New York Times Bestselling Author, CEO
& Top Innovation Keynote Speaker
Innovation Keynote on Making Change Happen - 10,000,000 Views
One of the world's
top innovation keynote speakers
, Jeremy Gutsche is a New York Times Bestselling author with two bestselling books on chaos, change and disruptive innovation. His specialty is helping high performance CEOs and teams to accelerate innovation and make change happen when change is hard. Jeremy is a perfect fit for large stage events requiring one of the world's best innovation keynote speakers. He advises several hundred brands, billionaires and CEOs including: NASA, Google, Microsoft, IBM, Viacom, Coca-Cola, Universal, Victoria's Secret and Wells Fargo.
Jeremy's Innovation Keynote Website
Armida Ascano
Chief Insight Officer
Innovation Facilitator for 70 Top Brands
The Future of Generations - Keynote on Demographic Evolution
After a decade of trend research, Armida leads Trend Hunter's Futurist Team and is one of our best keynote speakers. She has been relied upon for trend workshops and innovation keynote speeches at more than 70 of the world's best brands, including: Red Bull, Domino's, Panasonic Starbucks, Johnson & Johnson, Bacardi, Mastercard, Viacom, Universal and Toms Shoes. Her expertise is in getting high performance teams to think differently about their customer segmentation and opportunities. Armida joined Trend Hunter in 2010 as an editor, where she oversaw the creation of 50,000 articles and one billion views of traffic. Today she coaches our best innovation keynote speakers and develops frameworks on the future of innovation, technology, marketing, lifestyle and culture.
Jonathon Brown
Chief Growth Officer
Interviewed 400+ CEOs & Innovation Leaders
Business Innovation Tactics - Keynote on Innovation Methods
As Trend Hunter's Chief Growth Officer, Jonathon Brown is an expert in maximizing innovation potential of ambitious companies. After hundreds of interviews with global innovation leaders, Jonathon has uncovered methods for sparking creativity and systematic innovation across many industries. He shares these reusable techniques through captivating keynotes and backed by real use case examples. Jonathon started at Trend Hunter in 2012 on the editorial team, where he wrote over 1,000 articles, garnering 6 million views. Along with his keynote, Jonathon doubles as Future Festival Emcee at the world's highest rated innovation conference. Throughout his career, he's served as an innovation keynote speaker for clients such as Cisco and Walmart, as well as events such as The Market Research Event, Omni-Shopper, Future Trends and Back-End Innovation.
Ady Floyd
Senior Research Manager
Advisor to 50+ Leading Brands
The Future of Retail Innovation - Keynote on Shopping Tech and Omnichannel
Ady is one of Trend Hunter's best Research Managers, advising dozens of top brands about innovation strategy, curating and customizing trend research to suit their needs. She has used her dynamic approach and multifaceted experience to run custom workshop sessions with brands like McDonald's, SAP, Coca-Cola and Beam Suntory. She is Trend Hunter's lead keynote speaker on Innovation in Retail. To date, Ady has prepared over 500 custom research reports across all industries, for clients including: Panasonic, P&G, IMAX, MRV, Visa, Coca-Cola, Velux, Rich Products, Saatchi & Saatchi, Pier 1, Weight Watchers, McDonald's LEGO, Cirque du Solieil, Under Armour, SAP and Google
Gil Haddi
SVP, Client Success
Author of More than 3,000 Trend Articles
The Future of Marketing - Keynote on Marketing Trends and Tech
Gil Haddi is one of Trend Hunter's most broadly experienced keynote speakers on Innovation in Retail, with a background that spans trend writing, business innovation, client research and client success. As a writer, she studied trends in all categories of innovation, creating nearly 3,000 articles before becoming a research advisor to Coca-Cola, NASA, Sony, Kellogg, MTV, Bacardi and Nestle. As a Future Festival keynote speaker, she has inspired attendees at innovation events ranging from Hasbro and Innova-Con to Save the Children and AARP. At Future Festival's World Summit, she is our top keynote speaker on marketing innovation and marketing creativity.
Jaime Neely
Chief Culture Officer
Project Lead for the Innovation Assessment
The Future of Work - Keynote on Innovation in the Workplace
As Trend Hunter's Chief Culture Officer, Jaime managed Trend Hunter's team growth while developing culture programs and innovation assessments for many of the world's best innovation teams. Her Trend Hunter Innovation Assessment has been taken by more than 30,000 innovation leaders who use the tool to benchmark their innovation strengths and better understand their blind spots. She's been the keynote speaker at events ranging from the 2,000 attendee main stage at Mastercard, to executive boardrooms and innovation events for Staples, Universal, Pfizer, Johnson and Johnson, Nissan, Domino's, Universal, SC Johnson and AAA. Prior to her work on culture, Jaime joined Trend Hunter as an editor in 2011, where she oversaw more than 60,000 articles, attracting over a billion views.
Courtney Scharf
SVP of Research Operations
Managed 8,000 Custom Trend Projects
The Future of Play - Keynote on Leisure Trends
Courtney is the founder of Trend Hunter's Client Research Team, which today has completed more than 8,000 custom trend report and workshop projects for hundreds of the world's best innovation teams. She is a futurist and top keynote speaker for brands like Hasbro, Best Buy, Mastercard, Viacom, Hasbro, T Marzetti and 7-Eleven. In addition, Courtney has been an innovation and research advisor to Samsung, Adidas, Nestle, Disney and NASA. She is one of Trend Hunter's top keynote speakers for clients with a need for deep trend expertise and facilitation of our premium innovation workshops. Since 2015, she has been one of our best keynote speakers on trends, and the lead Future Festival keynote speaker on Innovation in Leisure and the Future of Retail.
Shelby Walsh
President
One of Canada's Top 100 Most Powerful Women
The Future of Life - Keynote on Lifestyle Trends
Shelby Walsh is the President of Trend Hunter. Awarded 'Top 30 Under 30' and named one of WXN's 'Top 100 Most Powerful Women in Canada,' she has been featured on BNN, and in TIME, NYT and Financial Post. You can regularly find her in the downtown Toronto office overseeing a growing team of over 50, or writing for publications like The Globe and Mail, sharing data- driven insights from TrendHunter.com that showcase retail, lifestyle and marketing trends. Shelby has been a part of Trend Hunter's exciting exponential growth since 2009, which provides brands such as Adidas, IBM, Disney and Samsung with custom trend research, keynote speeches and workshops, helping them to find better ideas, faster.
Dedicated Advisor Services
Extend your learning with the support & expertise of a Trend Hunter Advisor
Trend Hunter's Advisor services are a fantastic complement to our innovation keynote speeches. Our team of dedicated Advisors act as an extension of your organization, curating custom trend reports and helping you apply them to your business. Whether you're interested in learning more about a topic addressed during your Futurist presentation or about something else entirely, our Advisors provide insight and support to help you further your education.
Browse Advisor Services
Frameworks, Patterns and Megatrends
Turn an inspiring innovation keynote into action & understanding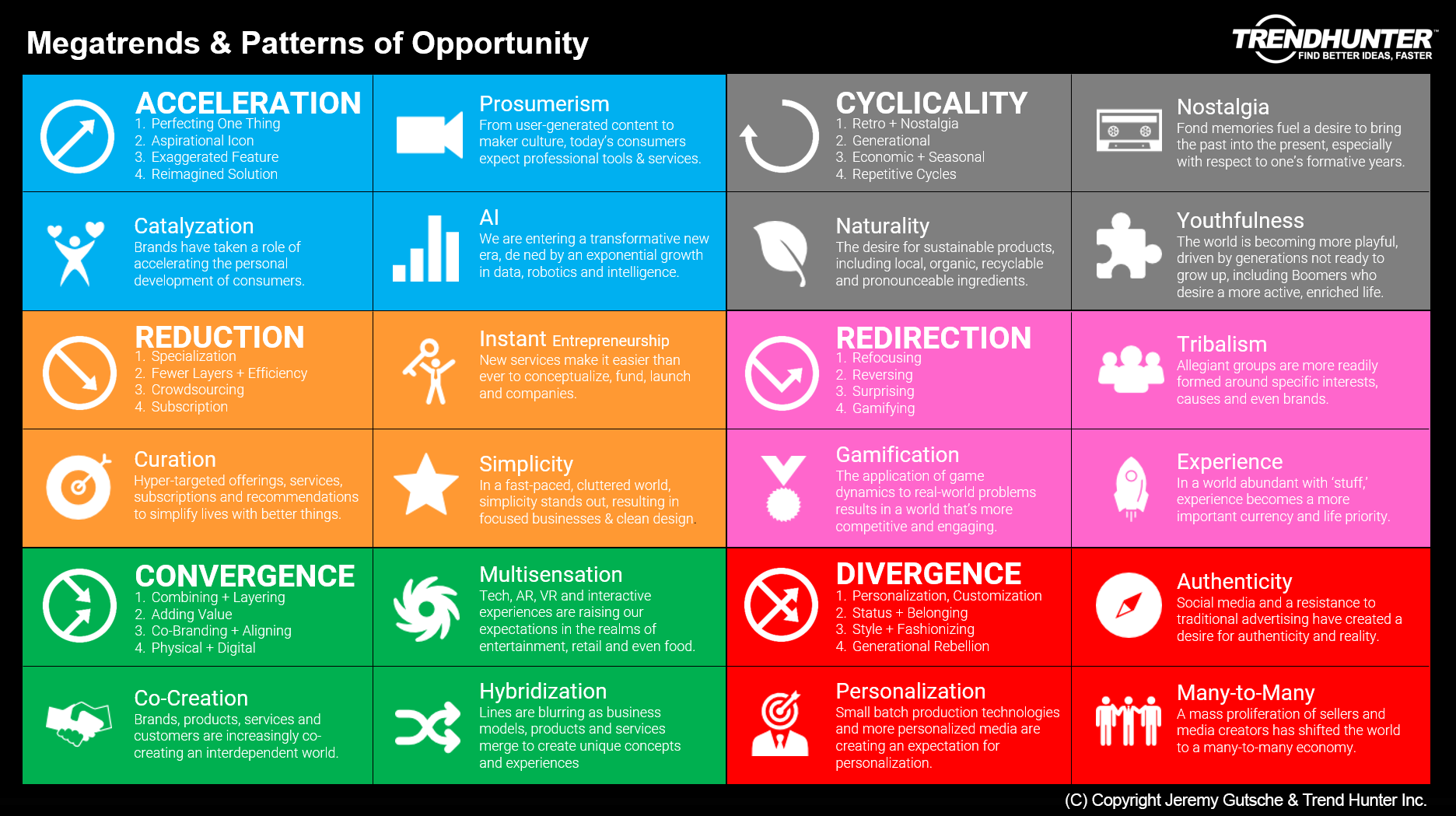 A HIGH PERFORMANCE METHOD OF IDEA DISCOVERY - Our keynote speakers anchor their wisdom in our big data, trend frameworks and proven method of idea discovery. Increase your ability to find overlooked opportunity and extract better thinking from your teams.
6 PATTERNS, 36 SUBPATTERNS & 18 MEGATRENDS - Deeply understand the most impactful forces shaping our world. Our examples are discovered from our analysis of more than 3 billion views and the interests of more than 150,000,000 people. To make sense of all the noise, we map all insights to the patterns and megatrends that are statistically most likely to shape our future.
Keynotes + Innovation Assessments
Create a Culture of Innovation With An Assessment Workshop & Deep Dive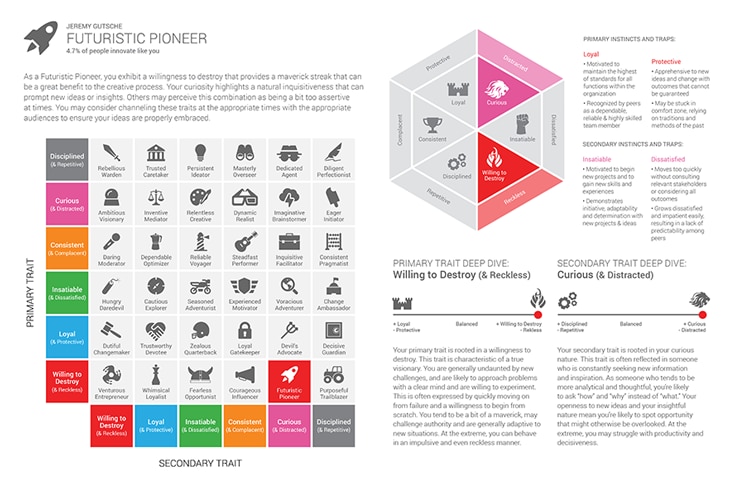 If you really want to take your culture to the next level, supercharge your innovation keynote speech with an overview of your company's culture in comparison to other top innovators. Every attendee will get their own 7-10 page innovation assessment, archetype, strengths and blind spots. Plus, you will get an overview of your entire team, which can be used to customize the innovation keynote speech and frame the basis for your innovation workshop.
Take The Free Personality Test
Keynote Speaker Takeaways
Inspire Attendees With Custom Trend Reports, eBooks, Workshop Materials & Videos
Most of the top innovation keynote speakers are inspiring but lack takeaways & next steps. Since Trend Hunter's entire business is built upon action, we curate custom reports for attendees to keep, extending the impact of your session beyond the actual workshop. In addition, trend and innovation keynotes can be customized with company-centric workshops and facilitated ideation sessions.
Get a Free eBook
KEYNOTE TOPICS - Our Best Keynote Speeches on Innovation and Trends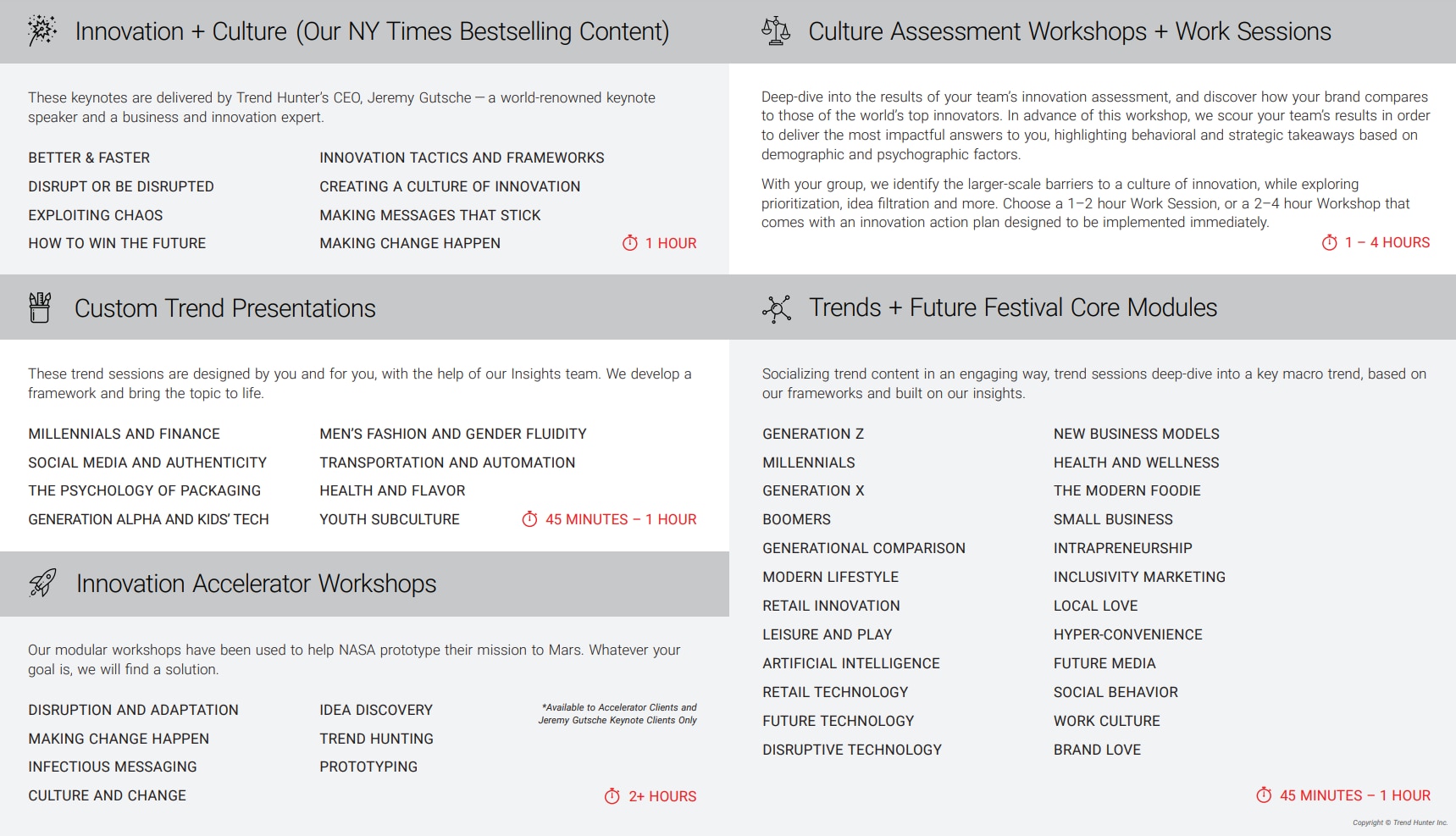 KEYNOTE DETAILS - Testimonials and Keynote Speaker FAQ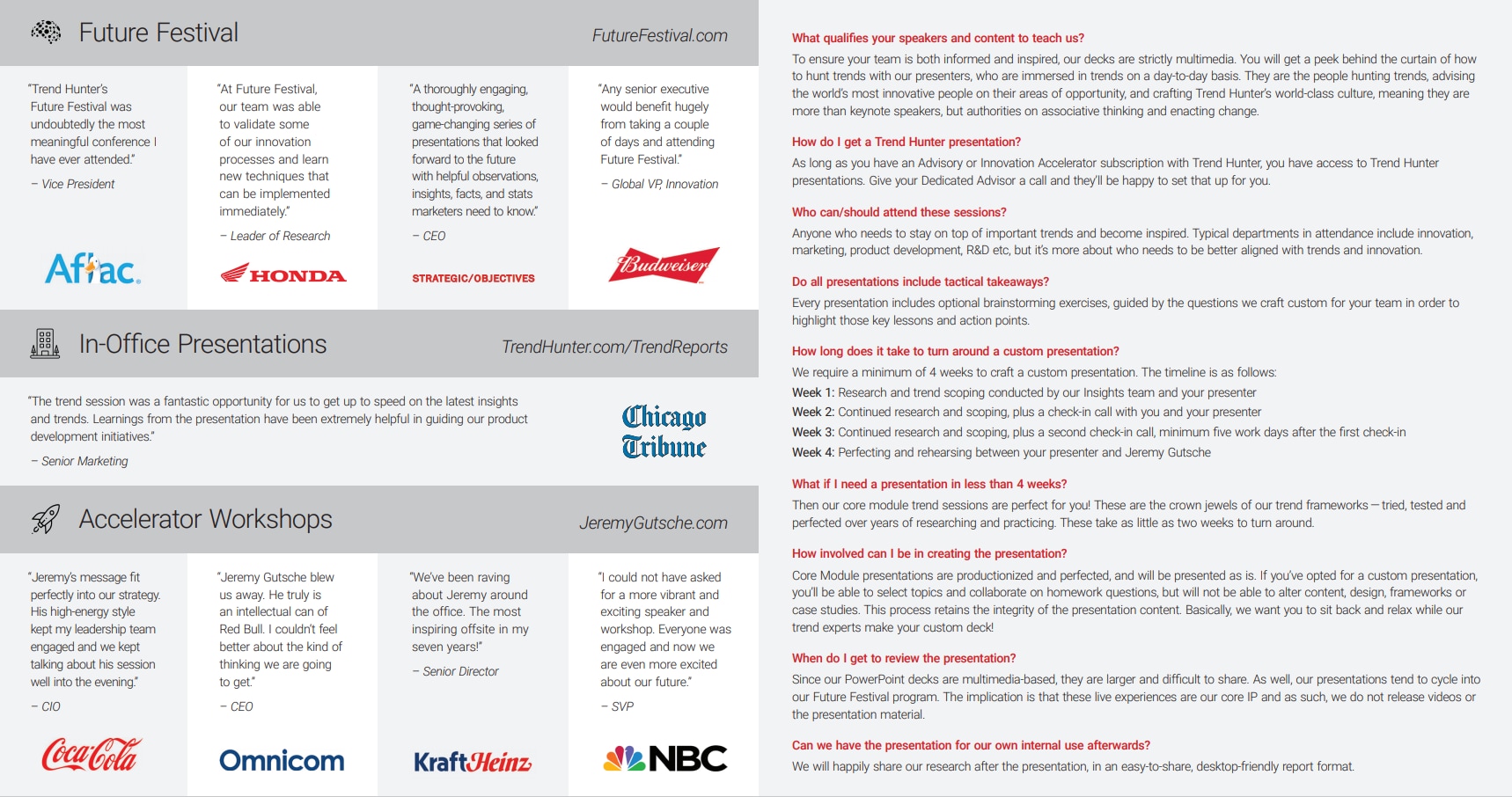 Have a question? Call us at 1-855-255-2233