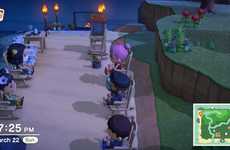 Consumers are celebrating important events digitally
Trend - Brands are offering their products as a way for consumers to connect during a time of physical distancing. As the pandemic continues, these tools are further tailored and customized to carry out increasingly important events—such as graduation and wedding ceremonies—in the digital space.

Insight - The restrictions imposed by governments as a result of the ongoing pandemic have left many consumers without a sense of control. In an attempt to regain their agency, individuals are choosing not to defer important events and milestones in their lives and instead, are finding new alternative ways to celebrate them while keeping safety in mind. In addition, this gives consumers something to look forward to amid a time of uncertainty which can be straining for mental health.
Workshop Question
- How could your brand ease consumer lifestyle tensions during a time of crisis?
4 Featured, 33 Examples:
37,480 Total Clicks
Date Range:
Apr 20 — Apr 20