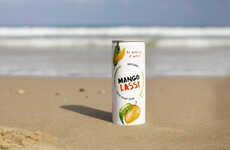 North American brands take inspiration from the Asian beverage lassi
Trend - A traditional beverage in Pakistan, India and Bangladesh, lassi is being adapted by North American brands in packaged or new formats. This shift comes as dairy brands look to cuisines in regions outside of their own regions in order to better cater to changing demographics and consumer preferences.

Insight - Foodie-minded consumers are establishing an expectation for access as it pertains to global flavors. The continued diversification of North America has made it so that global cuisines are increasingly in-demand in the region. Consumers expect access to convenient consumption formats and are simultaneously developing an appetite for experimentation in their diet.
Workshop Question
- How could your brand take inspiration from regions outside of its own?