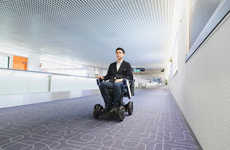 Designers are debuting autonomous technology to enhance city infrastructure
Trend - More companies are paying attention to the implications that autonomous technology can have when implemented outside the automobile industry. Permeating different aspects of city infrastructure, self-directed designs introduce greater accessibility and order to public spaces.

Insight - A higher quality of life is a continuous expectation of consumers in metropolitan cities and since many individuals recognize the benefits of digital tech and the Internet of Things, citizens demand the implementation of smart technology as a means of alleviating everyday stress. This comes as consumers are more cognizant of the need for accessibility for those with mobility issues, as well as a desire for convenience amid a busy day.
Workshop Question
- How might your brand utilize autonomous technology?
5 Featured, 45 Examples:
130,254 Total Clicks
Date Range:
Feb 19 — Jun 21