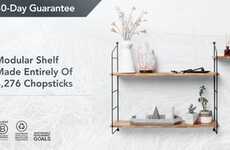 Waste-made home furnishing options prioritize eco-friendly consumption
Trend - Home furnishing brands are looking to become more environmentally friendly with furniture pieces and collections that are made from repurposed waste products. Items include everything from furniture made from raw waste to furniture made from old product packaging.

Insight - Eco-conscious consumers tend to limit the single-use items they purchase, however many don't have the means or access to long-term investment pieces that are also environmentally friendly. For eco-conscious consumers who can afford such lifestyle changes, prioritizing environmental friendliness in both small and large purchases is increasingly important.
Workshop Question
- How could your brand make eco-conscious purchasing more accessible?
4 Featured, 36 Examples:
183,882 Total Clicks
Date Range:
Sep 20 — Nov 20