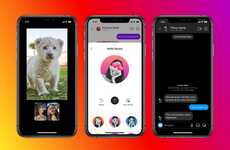 Social media sites are introducing features to delete user content and messages
Trend - As social media continues to be a primary tool in daily communication, apps are fighting to be the top choice for consumers' online chats. To appeal to consumers, these platforms are introducing new features that automatically erase messages and posts after a specified time, enabling online activity to be temporary.

Insight - The permanence of what users post on social media has caused a lot of controversy among consumers, leaving many to discuss the importance of being mindful online. Social media sites are responding by offering less permanence and more privacy controls to allow users to experiment and be more impulsive with what they choose to share.
Workshop Question
- How can your brand cater to consumers' desire for privacy in your products or services?
4 Featured, 34 Examples:
15,822 Total Clicks
Date Range:
Mar 20 — Nov 20
Trending:
This Quarter and Untested