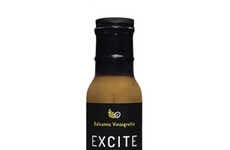 Packaged salad dressings are adapted with nutritious ingredients
Trend - Brands are offering salad dressings with healthy, elevated ingreients to enhance their nutritional value. Product sin this space include everything from dressings incorporated with anti-inflammatory CBD, to dressings that boost immunity.

Insight - For diet-conscious consumers, there have been certain ingredients and products they're told to stay away from based on traditional advice that they're unhealthy. Everything from juice to dressings fall into this category, and for people to change their minds about these items they require unexpected and heavily emphasized ingredients that portray an alternative narrative.
Workshop Question
- How could your brand create more positive associations with its product/service?