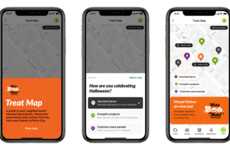 Maps for pedestrians prioritize safety and experience
Trend - Pedestrian-specific maps in app form are on the rise and prioritizing user experience both in-app and in-person. These apps include everything from augmented reality directions to personalized walking routes.

Insight - Walking and exploring on-foot is more popular now as cold weather brings on second waves of the ongoing pandemic to countries around the world. With socially distanced walking being one of the few activities people can partake in outside the home responsibly, people are looking for ways to enhance the experience and ensure their safety in the process.
Workshop Question
- How is your brand prioritizing the new activities and habits consumers have picked up this year?