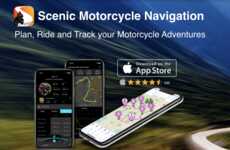 Rather than focusing on efficiency, navigation apps and maps emphasize scenery
Trend - Navigation apps are introducing new features that make travel or urban commutes more customizable for consumers—from apps that calculate one's route by avoiding dark streets as much as possible to ones that offer numerous different ways to reach a destination.

Insight - Exhausted by the demands of their busy schedules, many consumers are attempting to practice mindfulness more often in their day-to-day—whether it is finding a deeper connection with nature or generally slowing down This allows individuals to feel calmer and less stressed, ultimately avoiding burnout. In this space, many are prioritizing accessible activities that can be seamlessly introduced to their lifestyle.
Workshop Question
- Conceptualize a product feature/initiative that can have a de-stressing effect on consumers.