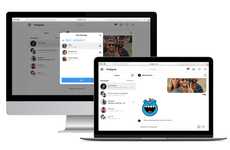 Companies are launching more apps specifically designed for desktop users
Trend - Companies are increasingly creating apps specifically designed to be used on a desktop, including apps for audio customization, social media, and organizational tools. The desktop-centric design empowers users with more functional capabilities when compared to their mobile counterparts.

Insight - Shifting social norms and advancements in technology have led more consumers to work remotely, and as a result, consumers are prioritizing apps that feature more functionality than what streamlined mobile devices typically offer. Additionally, these apps are being released at a time when people are now required to be indoors and consequentially spend more time on their computers for work and recreation alike.
Workshop Question
- How can your organization better offer more functional products and services?