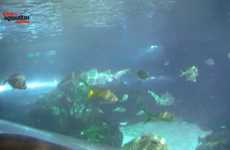 Brands introduce livestreams to support and entertain people during COVID-19
Trend - As people remain limited to what they can find in the safety of their homes for their entertainment, more brands are offering livestreamed content that keeps people feeling stimulated as they figure out new ways to spend their time. Everything from aquarium views to more traditional TV content are now being offered in live formats for people to enjoy.

Insight - Consumers often seek out engaging brand interactions, but they're doing so even more now given the state of the global climate. The mental and economic stress millions are currently facing has forced consumers to be creative with what they're using to "escape" the current realities of their day-to-day. Everything from new hobbies to new forms of entertainment are being explored, and giving consumers some respite from stress and anxiety.
Workshop Question
- How does your brand support its customers through stress and anxiety?