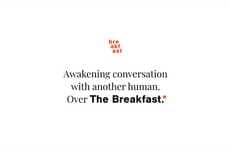 Brands look to combat loneliness amidst the COVID-19 pandemic
Trend - With physical distancing measures preventing people from being able to go out and socialize as they once did, brands are looking to combat the worsening feelings of loneliness that people around the world are dealing with. Apps and services that bring people together remotely are able to aid in maintaining the mental health of consumers.

Insight - COVID-19's far-reaching impact is more than a physical threat, it has impacted everything from people's financial stability to their social habits. Prior to the pandemic, self-reported loneliness around the world was already on the rise--a fact that's worsened with physical distancing measures in place. Where before isolated individuals could at least leave the home in order to feel more connected to others, that's currently not an option. Thus, people struggling with loneliness are looking for ways to connect with others and are turning to brands that facilitate that process.
Workshop Question
- How is your brand helping consumers navigate uncertainty and instability?