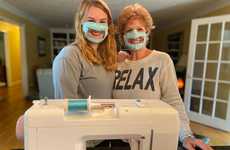 Mask designs are being optimized to be more accessible and serve specific needs
Trend - Many brands and designers are reimagining face masks and accessories to cater to individuals with different needs. Whether it be for those with functional diversities or those who wear glasses, these products enable a more inclusive and thoughtful approach to safety.

Insight - Contemporary consumers have different needs and functional abilities. This results in a growing demand for products that take universal design into consideration, meaning that offerings are inclusive and accessible to a wide range of individuals, regardless of age, background, or ability. When this expectation is met, consumers do not only feel more comfortable but also included and relieved that they don't have to confront or adapt to design biases.
Workshop Question
- In what areas can your brand benefit from universal design?
Trend Themes
1. Universal Design - Businesses can benefit from creating universal designs of products that cater to the varying needs of a diverse consumer base, including those with different functional abilities.
2. Aftermarket Face Mask Accessories - Developing and marketing aftermarket accessories that make face masks more comfortable and efficient can cater to consumers' specific needs and enable more inclusive solutions.
3. Smart Masks - Next-generation smart face masks that offer speech transcription and translation capabilities can provide enhanced digital efficiency while maintaining health protocols in confined spaces.
Industry Implications
1. Medical Supplies & Equipment - Universal design and aftermarket accessories for face masks have the potential to disrupt the medical supplies & equipment industry to cater to a more diverse and inclusive consumer base.
2. Assistive Technology - The development of face masks catering to the needs of those with different functional abilities is contributing to the growth of the assistive technology industry.
3. Wearable Technology - The rise of smart face masks is indicative of a growing market for wearable technology that serves health and safety purposes.
4 Featured, 35 Examples:
413,587 Total Clicks
Date Range:
Apr 20 — Dec 20