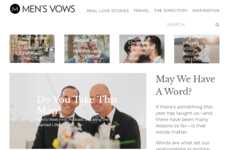 Various platforms are helping grooms be more involved in wedding organization
Trend - Various platforms that help grooms prepare and organize for their weddings are on the rise, and include everything from groom-specific registries to wedding planning platforms for LGBTQ+ people.

Insight - People are increasingly dismissing gender stereotypes as they look for healthier and more constructive expressions of gender, and this includes the various stereotypes associated with things like household management and marriage planning. Consumers who don't subscribe to constricting social norms search for brands that fill the gap and empower them to live freely.
Workshop Question
- How can your brand avoid limiting the demographics it appeals to?