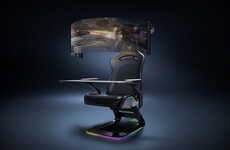 Furniture & tech are adapted to offer a higher degree of convenience & compactness
Trend - Brands are optimizing smart home products to better serve the needs of consumers who live in smaller spaces or those who frequently change abodes. The designs of these objects allow for ease of storage and use thanks to compactness and minimalism.

Insight - Many consumers who live in urban environments—especially Millenials and Gen Z—are conscious of space as they often find themselves occupying small apartments and/or shared living situations. As a result, individuals are prioritizing compactness and convenience when making decisions about interior design and technology for the home. Functional features such as these enable consumers to be more comfortable and even productive in a clutter-free space.
Workshop Question
- How can your brand serve the needs of consumers who live in small spaces?
5 Featured, 45 Examples:
89,251 Total Clicks
Date Range:
Jun 19 — Feb 21
Trending:
This Month and V. Hot