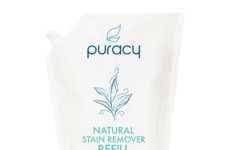 Laundry detergents and cleaners are made without harsh chemicals
Trend - When it comes to laundry detergent, harsh cleaning agents have long been the norm. Some consumers are opting out of harsher detergents, and emerging brands are catering to their needs with more natural and gentle formulations and functions.

Insight - The average consumer is increasingly informed about the various ingredients that go into everyday items, and are more likely to demand effective products and formulations that prioritize their health and safety. Many of these individuals are more likely to trust "natural" branded items, because they know their origins, benefits and don't worry about them having a negative impact on health.
Workshop Question
- How can your brand prioritize "natural" formulations and branding?
4 Featured, 32 Examples:
55,261 Total Clicks
Date Range:
May 19 — Sep 20
Trending:
Just New and Warm