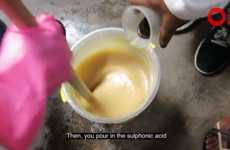 Brands and scientists are creating cleaning products by re-purposing waste
Trend - Businesses are envisioning what the circular economy means beyond packaging. With a focus on ingredients, many scientists and designers are developing techniques to implement elements like food waste and carbon emissions as ingredients in cleaning products.

Insight - Today's consumers are well-aware of the consequences of waste on the environment—from air quality to animal life. As a result, many eco-conscious individuals are concerned about how to dispose of such waste correctly as they wish to maintain a guilt-free lifestyle. Thankfully, the idea of the circular economy is fast-developing in the real world and many demand this concept to be fully integrated into the products that they use on a daily or weekly basis.
Workshop Question
- How might your brand interpret waste into its product/service?
4 Featured, 35 Examples:
41,798 Total Clicks
Date Range:
Aug 19 — Feb 20
Trending:
This Month and Warm