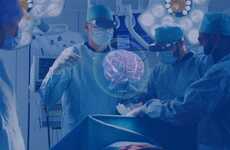 As AR technology underperforms in the consumer space, it finds a home in B2B
Trend - AR/VR/MR consumer products are still fairly niched among consumers; however, these technologies increase in popularity in the B2B space. This is seen in employee onboarding, cross-company collaboration, sales, and beyond. Though the business world is becoming increasingly virtual, immersive technologies help retain sensory connections.

Insight - The rise in popularity of AR/VR/MR services in the B2B space is partially due to the imposed WFH rules across many countries during the pandemic. Though many industries prove to be fully functioning without office spaces, employees must retain a sense of connection. These technologies lend efficiency, convenience, and safety while still being immersive and providing a multisensory connection.
Workshop Question
- Where in your business could the use of immersive technologies be beneficial?
4 Featured, 21 Examples:
15,548 Total Clicks
Date Range:
Jun 21 — Jul 21
Trending:
This Quarter and Average