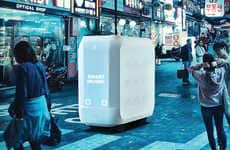 More individuals are embarking on the path of entrepreneuriship amid COVID-19
Trend - Businesses are launching campaigns and resources that are meant to support individuals who are interested in becoming entrepreneurs during the COVID-19 pandemic. These activations offer important information and coaching for starting one's own business.

Insight - Many lost their job because of the COVID-19 pandemic and some individuals—those who were fortunate enough to be in a good financial position—have decided to channel their energy into starting their own business. For many, this might be a long-time dream, while for others, it might be motivated by an obstacle they were trying to overcome during the pandemic. This, in turn, creates a demand for various resources and coaching opportunities, allowing consumers to feel more confident in planning and managing their idea's execution.
Workshop Question
- How might your brand support budding entrepreneurs?
4 Featured, 35 Examples:
29,479 Total Clicks
Date Range:
May 20 — Sep 20
Trending:
This Month and Warm