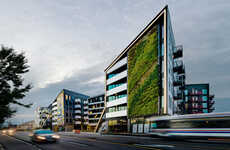 Co-ownership initiatives offer adapted forms of property and product ownership
Trend - Co-ownership opportunities are on the rise and come in a variety of forms, including car-sharing neighborhoods, co-owned apartment complexes and ownership setup spaces--all allowing people to pool resources for the sake of owning property or other investment pieces.

Insight - Millennial and Gen Z consumers face limited prospects when it comes to property ownership and other forms of investments, in-part because of inflated prices, higher costs of living and stagnant wages. These demographics are increasingly concerned for their future financial status and for the current system of capitalism, and seek out alternative ways to invest in order to secure their futures.
Workshop Question
- How is your brand adapting to varying generational needs?
Trend Themes
1. Co-ownership Opportunities - Millennials seek co-ownership opportunities as alternative ways to invest amidst inflated prices, higher costs of living and stagnant wages.
2. Alternative Investment Apps - 'Otis' investment app disrupts artwork investments by breaking down values into smaller shares enabling people to invest as small as $25 and diversifying a consumer's investment portfolio.
3. Flexible Ownership Models - New models like Rhove and Coproperly offer flexible alternatives to buying or renting property, which promises financial benefits and better accessibility for young adults.
Industry Implications
1. Real Estate - Co-ownership initiatives, alternative investment apps and flexible ownership models are disrupting traditional real estate models.
2. App Development - Technological advancements in app development are playing a key role in making co-investing in real estate accessible and manageable.
3. Sustainability and Eco-friendly Transportation - Bike-friendly neighborhoods and eco-friendly car-sharing programs are contributing to sustainability and reducing dependence on traditional car ownership.
8 Featured, 71 Examples:
353,508 Total Clicks
Date Range:
Jun 19 — Jan 22