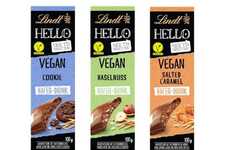 Vegan chocolate bars use oat milk as an alternative to dairy
Trend - Oat milk, an ingredient that's become more popular in the last few years due to it being one of the most realistic imitations of milk, is now being used to create vegan chocolate bars for people with lactose-related dietary restrictions.

Insight - Consumers are increasingly drawn to vegan food and beverages--in part because some follow a vegan diet, but also because many now associate veganism with health. Even indulgent items, like desserts, are viewed as healthier if they're made and labeled with vegan ingredients---and are therefore more trusted by health-conscious consumers.

Workshop Question
- How can your brand better cater to health-conscious consumers?