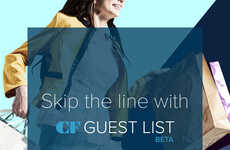 Brands are making it easier to support businesses located in shopping centers
Trend - The closure of in-store browsing and shopping in several regions due to COVID-19 has prompted shopper centers to create simplified solutions to help consumers shop locally. These include in-mall restaurant ordering platforms and mall-specific curbside apps.

Insight - The COVID-19 pandemic has dramatically reshaped the economy, with many businesses struggling to survive amid in-person shopping restrictions. Consumers are well aware of this fact, with social media movements urging consumers to shop and dine locally–from local designers and businesses to national brands big and small–to help boost the economy. These consumers are looking to avoid the giant, multi-national retailers and recognize the need to support the businesses in their area.
Workshop Question
- How can your brand make its products or services easier for consumers to support amid fluctuating shopping restrictions?