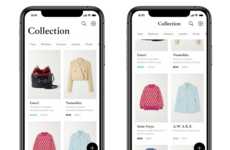 Apps help consumers prioritize eco-conscious fashion choices
Trend - With the fahion industry being an enormous contributor to worldwide pollution, some brands are releasing apps that help users make better choices when it comes to buying, repairing and generally extending the life cycles of their wardrobes.

Insight - More consumers are making decisions that prioritize environmental consciousness as the threat of climate change worsens. These individuals are turning to brands that help them prioritize sustainability in their day-to-day lives.
Workshop Question
- How is your brand prioritizing sustainability?