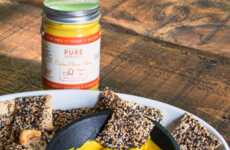 Online vegan shops offer realistic cheese alternatives
Trend - The rising popularity of vegan cheeses has brought on virtual stores where people can purchase from a number of dairy-free cheese options. These products cater to people who are vegan, have dietary restrictions, or those who just believe going dairy-free is healthier.

Insight - As the "alternative" food industry becomes more vast, consumers with dietary restrictions have become accustomed to having many choices when it comes to what they eat. No longer having to settle for the only options out there, they're looking to experiment with the many different formats and ingredients that meat or dairy-free food and beverage items now come in.
Workshop Question
- How is your brand accommodating its customers' restrictions?