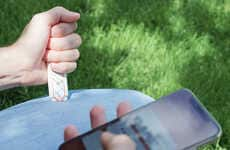 Brands are pioneering fashionable and less invasive injection designs
Trend - In healthcare, brands are working to make medical devices less intimidating, both for chronic conditions and emergencies. In this space, many are revamping the design of delivery methods, prioritizing aesthetics for accessibility, as well as features that would streamline procedures.

Insight - In order to take care of themselves and avoid unpleasant experiences, consumers who are living with chronic medical conditions or life-threatening allergies are obliged to be mindful of their environment. Many individuals from this demographic are looking for ways to feel independent and take control of their health in more efficient, effective, and convenient ways. Aware of the implications of tech and design in the health sector, consumers are considering these industries for possible alleviation of their everyday stress.
Workshop Question
- How can your brand alleviate the stress of medical procedures/delivery?