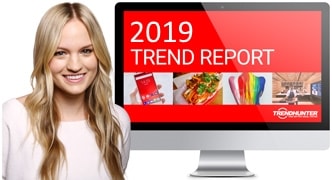 Free 2019 Report & eBook
Get the top 100 trends happening right NOW -- plus a FREE copy of our award-winning book.

Our Research Methodology
This article is one of 350,000 experiments. We use crowd filtering, big data and AI to identify insights.
Pepsi's Veggie Pop Gets Big in Japan
In a few weeks Pepsi sold out of 4.8 million bottles of the beverage, then rather than cranking out more they killed production. It seems that fad flavors are the norm in Japan and Pepsi had already gotten their ad buzz out of the green drink and were ready to move on to the next big thing. 1,500 new drinks come to marked each year in Japan, competing in the $30 billion a year beverage market. Very few will be winners like: Calpis, which has a tangy-sweet taste, is made from milk and lactobacillus, a type of bacteria that's commonly used in the production of cheese, yogurt, beer, and wine. Bottled waters with an extra shot of oxygen are all the rage in Japan, thanks to a shift toward healthier drinks. Kirin's Arginine V, is marketed as a pick-me-up potion for the sleep-deprived salaryman, this carbonated drink contains vitamins B1, B6, and Arginine, an amino acid that's found in dairy products, nuts, seeds, and some seafood. And last but not least: What do you get when you mix beer and milk? Bilk! The Abashiri Brewery, a microbrewery on Japan's northernmost main island of Hokkaido, came up with the idea of adding beer yeast and hops to milk to help local dairy farmers ride out declining milk sales. This drink is one-third milk by volume, has a cloudy, lemony-yellow appearance resembling the Belgian beer Hoegaarden, and tastes fruity. Since going on sale as a limited-edition drink in February, it has proved extremely popular, regularly selling out. Bottoms up!