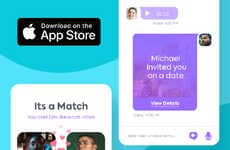 Dating apps eliminate or streamline communication features for better connections
Trend - As dating apps gain more criticism for issues like facilitating shallow interactions between users, brands are aiming to streamline these apps even further by eliminating certain communication features in favor of ones that aim to foster a deeper connection.

Insight - Social media has opened people up to both romantic and platonic relationships in easily accessible ways, but with the sheer number of people using these apps for various reasons, consumers can find it difficult to create meaningful connections. Brands that are prioritizing mutual respect and shared values between users on social media are increasingly popular.
Workshop Question
- How is your brand prioritizing meaningful connections for its customers?
Trend Themes
1. Streamlined Dating Apps - Brands are eliminating or streamlining communication features in dating apps to foster meaningful connections, prioritizing mutual respect and shared values.
2. Innovative Dating App Features - Dating apps are introducing new features like requesting chats, voice and video interactions, voice prompts, and exclusive events to enhance the dating experience.
3. Limited Access Dating Apps - Dating apps like Thursday are limiting the days users have access to the app and creating exclusivity and spontaneity for better engagement.
Industry Implications
1. Online Dating - Online dating brands can streamline their apps and introduce new features to improve user experience and engagement.
2. Social Media - Social media platforms can prioritize mutual respect and shared values between users, tapping into the need for meaningful connections.
3. App Development - Developers can create unique dating apps with innovative features and limited access to create exclusivity and spontaneity.
5 Featured, 42 Examples:
46,602 Total Clicks
Date Range:
Oct 19 — Oct 21