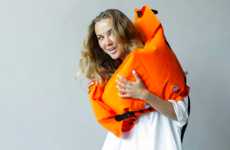 Designers are proposing solutions that address the absence of physical touch
Trend - The term "skin hunger" is a phenomenon popularized during the COVID-19 pandemic and it's prompted by the lack of physical touch for long periods of time. In turn, designers are showcasing various concepts and products that simulate hugging or other actions that bring comfort.

Insight - Many are vehemently practicing social distancing during the COVID-19 pandemic and as time goes on, the feelings of loneliness due to the lack of physical contact intensify. In order to not become too distressed, consumers are looking for safe and responsible ways to mitigate this. As a result, many opt-in for viable alternatives that allow them to feel less lonely, and when this need is met, individuals are more comfortable and content.
Workshop Question
- How might your brand create a more comforting environment for consumers through your product/service experience?