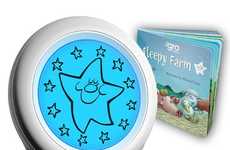 Interactive technologies guide children to sleep
Trend - The use of smart interactive technologies that help children fall asleep faster, and get better sleep, are on the rise. These capabilities are merged into a wide range of traditional children's products, including stuffed toys and night lights.

Insight - Millennial parents are using the highly adaptive and convenience-focused aspects of technology in the process of parenting. Everything from their children's health to their education is being advanced with the help of technology, and Millennial parents are much more open to this emerging parenting style–viewing it as beneficial to children's wellbeing rather than detrimental to it.
Workshop Question
- How could your brand prioritize convenience for its customers?