Sometimes I used to smile without reason, dreaming awake until dawn ... but then I remembered ... I'm not here to please you.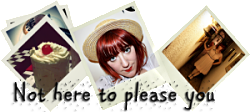 How do you define cool?
Something that can impress me.
What inspires or excites you?
Music, rain, cold, night, fire, nature, the city lights...
Predict something awesome for 2020?
The human race will live ... yet.