Greetings
!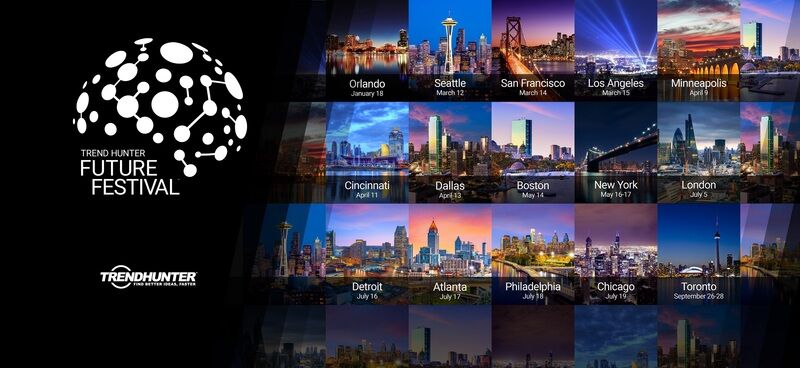 Check Out of 2018 Tour

With only a few weeks left in 2017, now is the perfect time to look ahead to next year's biggest trends. To find out more about the ideas that will dominate 2018 and beyond, download our exclusive
2018 Trend Report
here
for free! You can also see all of these trends in action by attending one of our 15
Future Festival
events. Find out when "The World's Best Innovation Conference" is coming to a city near you by checking out our
2018 tour
.
And now, here are the site's top weekly innovations:
Technology:
MAC recently teamed up with Modiface to bring
AR makeup mirrors
to its stores.
Social Media:
Ahead of the holiday season, Pinterest assembled
Secret Santa Gift Guides
for specific users.
Marketing:
KFC has created a set of festive
fried chicken ornaments
for the holiday season.
Toys:
LEGO's
Build to Give campaign
supports children who will be spending the holidays in the hospital by donating LEGO kits to pediatric units.
Enjoy!
Jeremy Gutsche
CEO, Author & Keynote Speaker - JeremyGutsche.com







Hyper-Sensorial Scent


Fragrances are marketed through unexpected and unconventional means

Implications - Due to the nature of the product, fragrances have long been a difficult product for marketers to accurately portray in advertising. Closing this gap between product experience and... [More]

Portable Parenthood


Baby products are cleverly redesigned to be used on the go

Implications - Aligning with the increasing role convenience culture plays in consumers' daily lives, brands in the baby space are creating more portable versions of infant necessities for... [More]

Subscribed Breakfast


Breakfast meals are made easier via subscription services

Implications - With breakfast often being the meal that consumers skip the most, some brands are looking to change this fact by offering subscription services that specifically offer breakfast foods.... [More]

Minimalist Accessibility


Fast fashion brands appeal via minimalist retail spaces

Implications - The fast fashion industry is taking cues from its high-end counterparts by offering retail spaces that are minimalist in design, and in the quantity of clothing and accessories they... [More]

AR Fitting


Fitting rooms in retail spaces offer virtual and augmented functions

Implications - Some brick-and-mortar retail spaces no longer require that customers test out clothes before they purchase, as mirrors, VR and AR tech are allowing for shoppers to see what the items... [More]