Greetings
!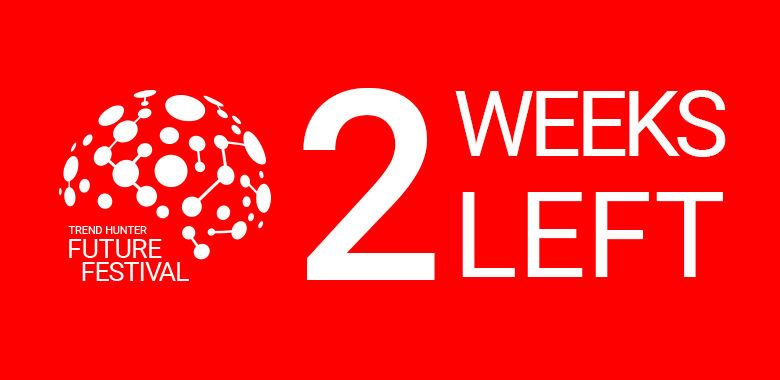 Right now the team is busy putting the finishing touches on our 2018 Trend Report and all of the free reports, content, and innovation frameworks that we'll be giving away at this year's
Future Festival
. If you would like to figure out what great ideas are so close within your grasp, come to Future Festival and use the time to step back from your role and think about all of the opportunities that you are close to.
With content from the world's #1 trend spotting platform and 750 of the world's top innovators, it's going to be an unforgettable experience! Best of all, Future Festival is the largest gathering of brands in a vendor-free environment, meaning that there will be tons of conversations to be had with the brightest minds in insight and innovation.
Tickets can be purchased
HERE
. But don't wait too long, we're now 96% sold out!
Enjoy!
Jeremy Gutsche
CEO, Author & Keynote Speaker - JeremyGutsche.com







Jun 14
Monaco
Jun 18
San Diego
Jun 20
Mexico City
Jul 05
London
Jul 16
Detroit
Jul 17
Atlanta
Jul 18
Philadelphia
Jul 19
Chicago
Aug 03
Chicago
Aug 28
Las Vegas
Sep 19
Toronto
Sep 21
Raleigh
Sep 24
California
Oct 16
Washington
Oct 17
Scottsdale
Oct 23
Calgary
Oct 30
San Diego
Nov 05
Scottsdale
Nov 28
Long Beach
Feb 25 '19
Florida
Appified Challenge


Challenges & dares evolve onto online platforms for digital engagement

Implications - Traditional face-to-face activities are adapting with the use of technology to better integrate into consumer's day-to-day consumption habits. Tapping into mobile apps and social... [More]

Intelligent Pet


Pet products go beyond connectivity to offer smarter, more intelligent solutions

Implications - Looking beyond mere mobile applications, pet owners are seeking out products and services that offer their pets smarter, more intelligent solutions to their day-to-day needs. Tapping... [More]

Hybrid Croissant


Croissants are used as the starting point for new desserts and dishes

Implications - Croissants are being used as the base of various dishes and desserts, creating unique hybrid products. Such items serve as an example for how brands can cater to consumers'... [More]

Bio Straw


Brands and government policies ban or phase out traditional plastic straws

Implications - With brands and certain governments increasingly focusing on the impact of their waste-related policies, along with consumer lifestyle habits related to excess consumption, a step... [More]

Accessible Mixology


The practice of making high quality cocktails is increasingly attainable

Implications - The rise of at-home drinking among Millennials has brought on a surge of mixology apps that allow users to craft quality cocktails. These apps indicate the continued rise of artisan... [More]