Having trouble viewing this email?
Click Here

Ideas
Insights
Custom Reports
Dashboard
Books
Keynotes
Conference
Hey there!
Intro text
Enjoy!
Jeremy Gutsche
CEO, Author & Keynote Speaker - JeremyGutsche.com







Jan 15
New York
Jan 17
Orlando
Jan 24
US
Jan 29
Phoenix
Feb 04
Orlando
Feb 05
Atlanta
Feb 06
Illinois
Feb 13
Atlanta
Feb 26
Florida
Mar 18
Cincinnati
Mar 19
Florida
Mar 20
Atlanta
Apr 11
Dublin
Apr 23
Bangkok
May 01
Niagara
May 09
Kansas City
May 13
Seattle
May 16
Sydney
May 21
New York
May 23
Minneapolis
May 30
Ecuador
Jun 27
Berlin
Jul 15
LA
Jul 17
Philadelphia
Jul 18
Chicago
Edible Aloe


Brands harness the soothing properties of aloe in ingestible items

Implications - Beverages and snacks in North America are increasingly incorporating aloe vera as a key ingredient, whether for its soothing properties or for the purpose of benefiting skin from the... [More]

Everyday Omission


Home tech focus on omitting steps from consumers' daily routines

Implications - Home technology typically focuses on added benefits, such as connectivity to enhance the speed of the everyday routine, or AI to anticipate day-to-day needs ahead of time. A more... [More]

Printed Skin


Tech accelerates 3d-printed innovations in skincare

Implications - The 3d-printing industry has entered the skincare space, with researchers and brands creating everything from 3d-printed skin to customized bandages. With personalization in the... [More]

Deviated Recruitment


Companies opt for unlikely recruitment techniques in the hiring process

Implications - With job recruitment in North America being a relatively arduous process for both the employer and potential candidates, some companies are enhancing the process by creating or taking... [More]

Facilitated Mentorship


Brands facilitate the mentorship process between people and professionals

Implications - The process of finding a mentor no longer involves as much networking as it did in years past, as brands are now offering consumers platforms through which they can develop... [More]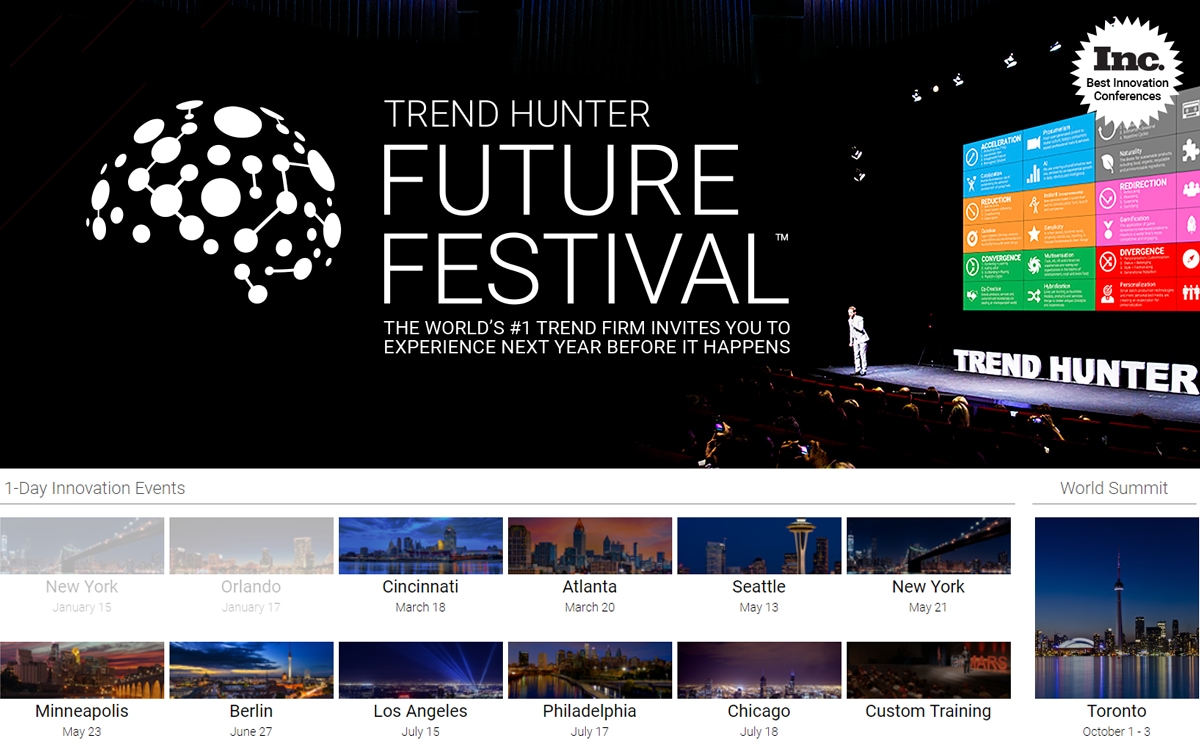 Learn How 500 of the World's
Top Innovators Rely on TrendHunter

TREND HUNTER (www.trendhunter.com) is the world's largest trend spotting and cool hunting community. It is an explosion of cool, fueled by a global network of trend spotters and cool hunters. Innovation and strategic advantage hinge on the ability to anticipate the latest trends and identify the next big thing. By tracking the evolution of cool, Trend Hunters generate ideas, stimulate creativity, and ultimately unlock cool.


Copyright (C)
TREND HUNTER
. All Rights Reserved.
"Trend Hunter" and "Unlocking Cool" are registered trademark of TrendHunter.com.