Having trouble viewing this email?
Click Here

Ideas
Insights
Custom Reports
Dashboard
Books
Keynotes
Conference
Hey there!
With home-share services like Airbnb continuing to disrupt the travel industry, traditional hotels are updating their offerings to stay competitive. This week, our featured insights explore how elements of gamification, art, and cutting-edge technology are being used to enhance guest experiences.
From
self-cleaning rooms
to
in-suite theatrical performances
, read on to discover how hospitality brands are taking innovative measures to stand out in a saturated market.
Enjoy!
Jeremy Gutsche
CEO, Author & Keynote Speaker - JeremyGutsche.com







Apr 16
Maryland
Apr 23
Bangkok
May 01
Niagara
May 09
Kansas City
May 13
Seattle
May 14
Philadelphia
May 16
Sydney
May 21
New York
May 23
Minneapolis
May 30
Ecuador
Jun 27
Berlin
Jul 14
Las Vegas
Jul 15
LA
Jul 17
Philadelphia
Jul 18
Chicago
Jul 29
Denver
Aug 01
Bentonville
Aug 06
South Africa
Sep 18
Charlotte
Oct 01
Toronto
Oct 17
Toronto
Oct 28
Banff
Oct 31
Lisbon
Nov 20
Naples
Gamified Stay


Hotel brands incorporate elements of gamification in their accommodations

Implications - Hotels are prioritizing gamification in many forms–whether that's in the theme of the rooms they offer, in their loyalty programs, or in additional elements they offer... [More]

Cultural Stay


Hotels stand out from the competition by focusing on artsy experiences

Implications - Offering greater value in the increasingly competitive hospitality market, hotels are turning to cultural and artistic touches in order to attract the attention of travelers. By... [More]

Seamless Stay


Smart hotels implement learning technology to remember guest preferences

Implications - Taking a page out of the smart home book, hotels are integrating learning technology to adjust to consumer preferences for everything from check-in to room temperature. This makes for... [More]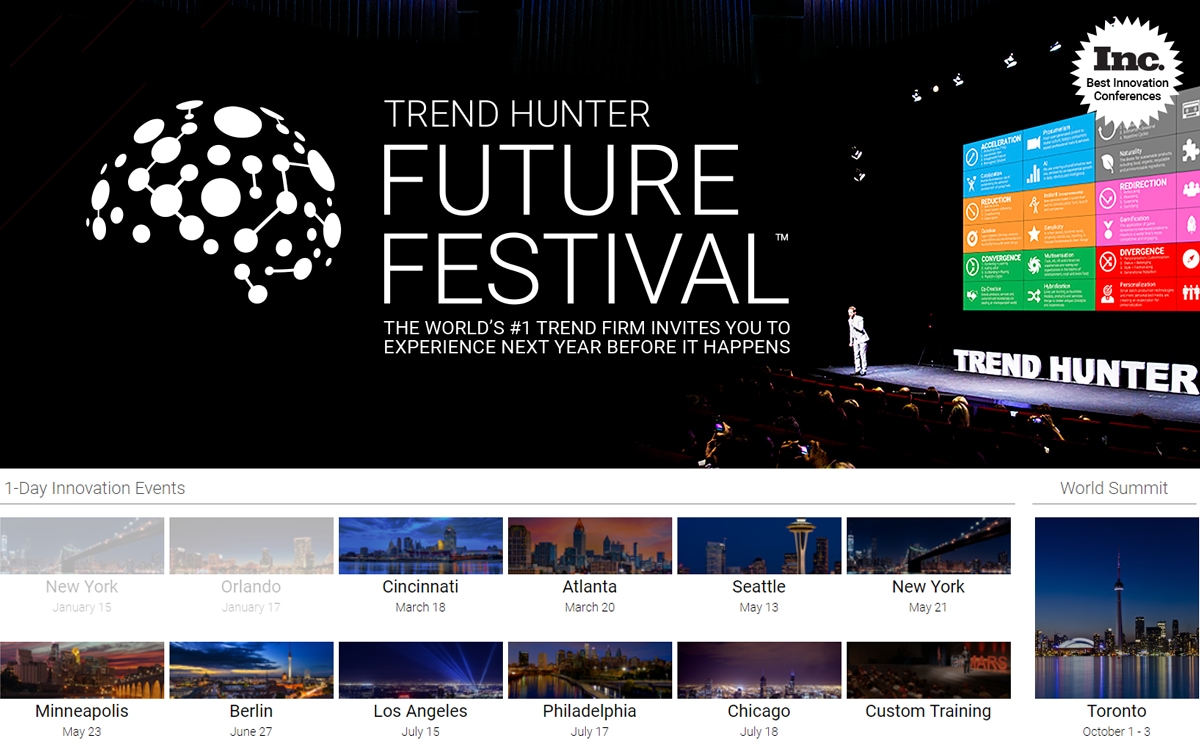 Learn How 500 of the World's
Top Innovators Rely on TrendHunter

TREND HUNTER (www.trendhunter.com) is the world's largest trend spotting and cool hunting community. It is an explosion of cool, fueled by a global network of trend spotters and cool hunters. Innovation and strategic advantage hinge on the ability to anticipate the latest trends and identify the next big thing. By tracking the evolution of cool, Trend Hunters generate ideas, stimulate creativity, and ultimately unlock cool.


Copyright (C)
TREND HUNTER
. All Rights Reserved.
"Trend Hunter" and "Unlocking Cool" are registered trademark of TrendHunter.com.