Having trouble viewing this email?
Click Here

Ideas
Insights
Custom Reports
Dashboard
Books
Keynotes
Conference
Hey there!
Stacy's Rise Project Snack Packaging
Every year on March 8th, International Women's Day is celebrated by millions of people worldwide. Many brands mark the occasion with special initiatives aimed to honor and empower the women in their organizations or the world at large, and this year was no exception. From limited edition products to charitable initiatives and more, here are our 5 favorite branded initiatives for IWD 2019.
1.
K-Swiss & Amber Vittoria's "
This Space is For You
" Sneakers
2.
Stacy's & Women United's
Rise Project Snack Packaging
3.
Camden Town Brewery's
Hand-Painted Football Jerseys
4.
Emirates'
Celebration of Female Employees
5.
eBay's
Superheroine HQ
Shop
Read on for more top trends and insights of the week!
Cheers,
Jeremy Gutsche
CEO, Author & Keynote Speaker - JeremyGutsche.com







Mar 18
Cincinnati
Mar 19
Florida
Mar 20
Atlanta
Apr 02
Los Angeles
Apr 04
Latvia
Apr 11
Dublin
Apr 16
Maryland
Apr 23
Bangkok
May 01
Niagara
May 09
Kansas City
May 13
Seattle
May 16
Sydney
May 21
New York
May 23
Minneapolis
May 30
Ecuador
Jun 27
Berlin
Jul 15
LA
Jul 17
Philadelphia
Jul 18
Chicago
Aug 06
South Africa
Sep 18
Charlotte
Oct 01
Toronto
Oct 17
Toronto
Oct 28
Banff
Trendy Infancy


The ingredients in "buzzy" foods for adults are translated to infant food options

Implications - Food brands that specialize in meals for infants are taking cues from the food industry that targets adult consumers, and adapting the "buzzworthy" ingredients that appeal... [More]

Surface Energy


Topical or wearable items aim to boost users' energy

Implications - No longer confined to items one would ingest, energy boosting products offered by brands are coming in the form of items like shoes and perfume. This shift comes as consumers seek out... [More]

Digitized Merchant


Cash economies go digital with merchant-centric benefits

Implications - The lack of digital payment infrastructure that extends to small and micro businesses is a significant challenge for businesses operating in primarily cash economies. In an effort to... [More]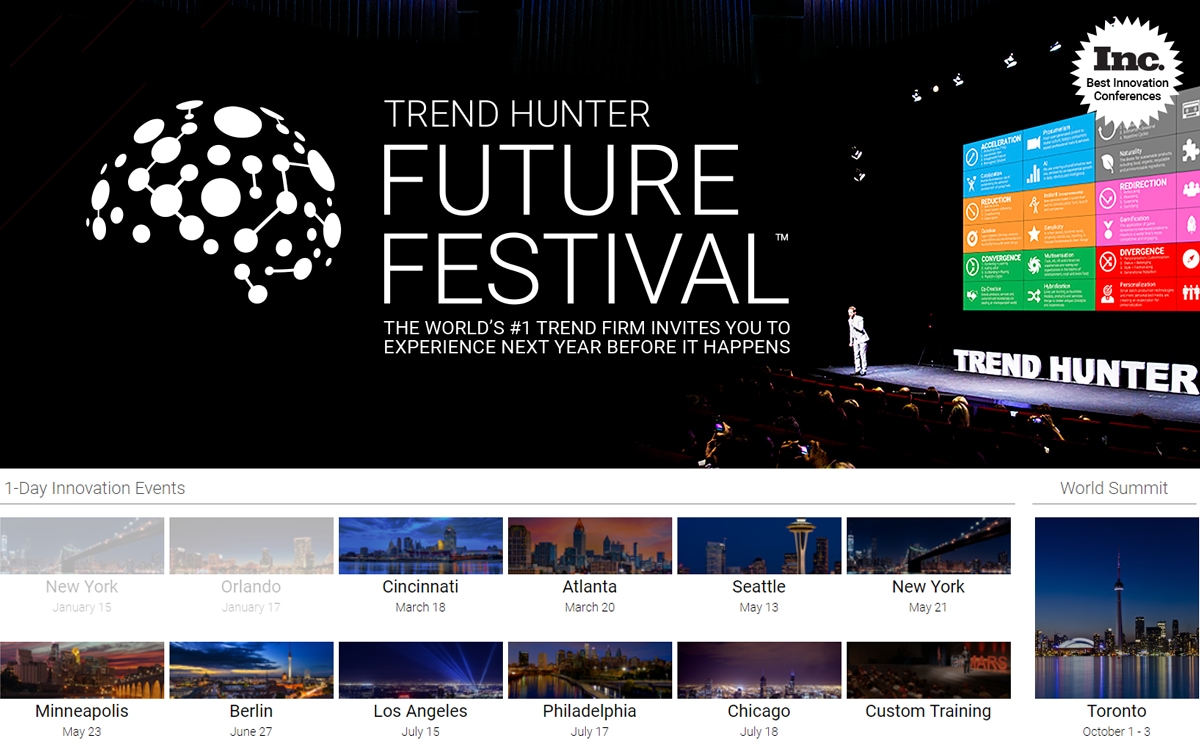 Learn How 500 of the World's
Top Innovators Rely on TrendHunter

TREND HUNTER (www.trendhunter.com) is the world's largest trend spotting and cool hunting community. It is an explosion of cool, fueled by a global network of trend spotters and cool hunters. Innovation and strategic advantage hinge on the ability to anticipate the latest trends and identify the next big thing. By tracking the evolution of cool, Trend Hunters generate ideas, stimulate creativity, and ultimately unlock cool.


Copyright (C)
TREND HUNTER
. All Rights Reserved.
"Trend Hunter" and "Unlocking Cool" are registered trademark of TrendHunter.com.