Guy Kawasaki Keynotes
Keynote speeches by Guy Kawasaki are motivational, inspiring and divulge a great deal of applicable...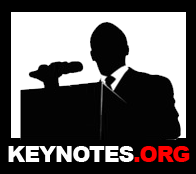 Need Inspiration?
Get inspired by 3,000+ keynote speaker videos & our founder, a top keynote speaker on innovation.
Guy Kawasaki Offers Entrepreneurial Advice During 'The Art of the Start'
Guy Kawasaki, the award-winning author of ten books, the founder of Alltop.com and previously the chief evangelist of Apple, shares his entrepreneurial secrets with a wide range of organizations in many different industries in 'The Art of the Start,' his keynote speech. 'The Art of the Start' summarizes his top ten tips for anyone starting a company. 'The Art of the Start' describes finding and creating meaning as the core to entrepreneurship as well as the only foreseeable way to turn a profit. Guy argues that the only way to make meaning within a company is by increasing the quality of life, righting a wrong and by preventing the end of something good in the world today. Throughout 'The Art of the Start,' Guy reiterates the requirement of at least one of these three things as being the motivation behind anyone starting a company, non-profit or organization.