---
Top 20 Trends in 2013 Forecast
2013 Trend Report Highlights by Trend Hunter
---
By: Jeremy Gutsche
(Rockstar) Dec 29, 12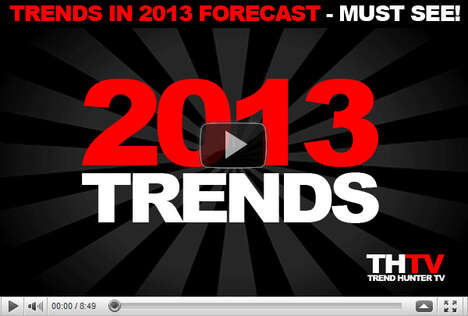 Manufactured Addiction, Upgraded Ordinary and Millennial Madness—Today we hunt Trends in 2013 with our "Top 20 Trends in 2013 Forecast"....
20. Modular Retail - Fold-away fashion stores, paper buildings and temporary cafes. Rebelling against the notion that stores have to be stationary, these modular retail spaces are proving that pop-up shops are here to stay and that mobility is in demand.

19. Wellness Gaming - Exercise-powered virtual cars and mood-boosting mental games.  While video games are still vilified by many traditionalists, those companies that are willing to look outside the box are finding many ways to appeal to consumers with gaming tactics. Particularly in the health industry, gaming has proved to be an effective tool for speeding recovery, boosting physical fitness and improving mental health. A gamified business is one that is highly addictive and incents consumers to act.

18. Upgraded Ordinary - When is the last time you applied a condiment with a sealant applicator or have used spices that pay homage to alchemy? If you haven't seen these types of products on the shelves yet, you soon will. Ordinary is being upgraded as up-and-coming companies are looking for a way to stand out on shelves and differentiate themselves from bigger competitors.

17. Millennial Madness - 2013 is the year of the Millennial. The term "Millennial" is closely associated with controversy, as traditional media has routinely labeled this generation as entitled, lazy and unmotivated. Despite the negativity towards Gen Y, understanding their generational culture is imperative. Juxtaposed with boomers, millennials typically approach life more corroboratively, have a great sense for social media and their purchasing patterns are far more digital.

16. Dystopia Fashion - Many dystopian themes have been making their way into books, movies and art. Most notably, the Hunger Games franchise has made themes of anti-utopia even more prevalent, spawning fan fashion sites and even art. Consumers are now exploring themes of fear, aggression and repression in the clothes they wear and by the products they purchase.

15. Imposed Interaction - More collaborative and less hierarchal workspaces are on the rise. There are now cafes in operation that cater to entrepreneurs who'd like to work in a group setting, there are more communal areas for conversations in-office and some brands have even made their offices something to talk about themselves by using bright colors and eccentric design. Knowledge transfer in the workplace is now synonymous with a more open-concept workplace.

14. Shoptimization - The Eyeona App will let you know of any discounts going on in any store as soon as you step foot in it via your phone. The Wallaby Card will help you to take advantage of any credit card benefits that are available to you as they pop up. Regardless of how much a discount is for, consumers are eager to minimize their spending and many easy-to-use apps are being launched to optimize on this desire. The future of retail strategy is one that focuses just as much on in-store strategy as mobile application strategy.

13. Sustainitecture - Buildings are now capable of producing their own food, electricity and clean drinking water. The future is making way for a new breed of building that is not only eco-friendly, but also self-sustainable. Being eco will soon only be the tip of the iceberg – if there are any left by then. Many industries besides architecture are now positioning themselves as working in tandem with environmental efforts to appeal to more environmentally-conscious consumers.

12. Deliberate Vintage - Deliberate vintage is all about creating imagery that appears antiqued. Faded colors, vignetting and grainy images are making a comeback, harkening back to the days of Poloroid cameras. Editorials, commercials and art are getting an old school makeover while wildly popular apps like Instagram are creating tools for consumers to create sensationalized images of their lives.

11. Immersive Branding - Branded bus rides, intense brand projections and chocolate organ concerts. Brands are now engaging consumers not only in social media conversations, but also physically.  Giving consumers a fully engrossed brand experience is what immersive branding is all about and companies like Coca-Cola and Cadbury are on trend for 2013 with their latest larger-than-life stunts.

10. Digi-Tail - Holographic greeters and augmented reality greeters are just a few examples of how consumers are pursuing increased interactivity in their daily experiences. Retailers looking to supercharge sales are setting themselves apart by using the latest cutting edge tech products to improve in-store experiences.

9. Wearable Multitaking - Watches that socially connect, work as credit cards and have games on them aren't on their way into the marketplace – they've arrived. High-tech wristwatches are capable of multiple applications and are popular with today's ultra connected and on-the-go consumer. In the eyes of the consumer, convenience is key.

8. Subscription World - Subscription clothing, furnishings, intimates and more. Consumers are looking for services to compliment their busy lifestyles – not services they have to schedule their lives around. Targeted subscription services now offer a lot more variety and are being endorsed by major celebrities like Mary Kate & Ashley and Justin Timberlake.

7. Physical Virtual - QR codes, virtual change rooms and augmented reality. All of these things are being incorporated into traditional retail spaces in order to bridge the gap between a tangible shopping experience and an online shopping experience. Physical virtual is making in-store shopping that much easier for consumers.

6. Benefit Brands - "Benefit Corporation" certification is a badge hundreds of companies are wearing proudly. The first-ever B Corp certified company in California was Patagonia for its extensive environmental efforts. The brand even has special internships that let employees volunteer for the eco cause that means the most to them. Those who participate still get full Patagonia pay as well as benefits! Being a B Corp attracts many socially and environmentally-conscious consumers who want to know that the products, services and goods they're using leave the world a little bit better off.

5. Nostalgic Escape - Kids dream of tree forts, castles and all sorts of magical things, and for most, this childlike enchantment with fantasy is nostalgic. To transport adults into a time of their past, many companies are offering surreal experiences and products that play upon childhood whimsy. A trip down memory lane may just be what a consumer needs to expel some stress and have a good time.

4. Crossover Cuisine - From specialized sushi lunchboxes to rice roll machines and insect sushi, it's clear that Western culture has adopted a far more Eastern taste for foodstuffs. The number of sushi bars in the US quintupled between 1988 and 1998, and that number is on the rise.  The economic recession of the West has shifted the economic gravity to the East, and now – more than ever—Eastern culture is permeating North America across a variety of industries including food, design, architecture and travel.

3. Fashionizing - Whether it's a bottle of Coke or even a feminine hygiene product, unglamorous everyday objects are getting a little more glam to appeal to fashion conscious consumers. Items that were once considered mundane are getting revamped to appeal to a younger, trendsetting audience of both men and women.

2. Shoppertainment - The retail experience is about so much more than shopping – it's about new brand experiences and memorable entertainment. That's why brands such as Audi and IKEA have been focusing their energy to engage consumers on a new and epic level. IKEA hosted a giant slumber party in one of it's stores, giving people the chance to pick out their own linens, beds and even get a bedtime story read to them. This sort of stunt attracts a lot of attention and marketing efforts like it have the propensity to go viral.

1. Manufactured Addiction - The shopping experience is being gamified. Retail apps, daily deal sites and point reward systems are being ingrained in culture, incenting consumers to buy – and quick. The addiction to shopping has never been so powerful as gaming techniques are increasingly being integrated into retail strategy.
For a more in-depth look into what trends 2013 has in store, create your own Trend Hunter portal—a tool that allows you to track competitor innovation, monitor your market and get big ideas, faster. (Show scroll through of PRO Platform)
Source:
trendhunter
Related Trends:
---

Treetop Suites
TrendHunter.com/id/98478

Rustic Industrial Restaurants
TrendHunter.com/id/137665

Creativity-Charged Cafes
TrendHunter.com/id/153625

Instagram-Inspired Editorials
TrendHunter.com/id/150075

Generational Marketing Guides
TrendHunter.com/id/141437

Imaginative Recreational Workspaces
TrendHunter.com/id/143530

Alchemist Spice Branding
TrendHunter.com/id/127199

Monochromatic Dystopia Paintings
TrendHunter.com/id/130714

Generation Y Foodie Graphs
TrendHunter.com/id/145112
Vibrant Pop-Up Cafes
TrendHunter.com/id/129542

Lunchbox Maki Makers
TrendHunter.com/id/157188

Luxe iPod Nano Watches
TrendHunter.com/id/108211
High-Tech Greenery Offices
TrendHunter.com/id/155055

Luxury Paper Pop-Ups
TrendHunter.com/id/134321

Ethereal Lodging Spaces (UPDATE)
TrendHunter.com/id/92590

Dystopia Cartoon Mashups
TrendHunter.com/id/146496

Immersive Brand Projections
TrendHunter.com/id/142819
Polaroid Picnic Lookbooks
TrendHunter.com/id/142458

Interactive Digital Showrooms
TrendHunter.com/id/161149
Film-Inspired Photoblogs
TrendHunter.com/id/140454

Credit Card Timepieces
TrendHunter.com/id/133908

Couture Cola Campaigns
TrendHunter.com/id/108704

Sustainable Crystallized Structures
TrendHunter.com/id/120802
Sustainable Twin Towers
TrendHunter.com/id/115804
Twin Icon Tees
TrendHunter.com/id/117818

Experimental Boutique Boudoirs
TrendHunter.com/id/94512
Freehand Condiment Branding
TrendHunter.com/id/118008

Edible Insect Sushi
TrendHunter.com/id/145225

Networking Pocket Watches
TrendHunter.com/id/109139
Ruggedly Raw Boutiques
TrendHunter.com/id/133251

Caulking Branded Condiments
TrendHunter.com/id/122039

Mile-High Urban Farms
TrendHunter.com/id/125884

Contemporary Concrete Galleries
TrendHunter.com/id/142806

Fold-Away Fashion Stores
TrendHunter.com/id/119231

Doomed Millennial Infographics
TrendHunter.com/id/143417

Personalized Virtual Boutiques
TrendHunter.com/id/163234

Fashionable Feminine Hygiene
TrendHunter.com/id/122284
Living Photo Apps
TrendHunter.com/id/148170

Virtual Subway Supermarkets
TrendHunter.com/id/158089
Outdoor Gear for Good
TrendHunter.com/id/140197

Imaginary Chocolate Lands
TrendHunter.com/id/142567

Interactive Designer Microsites
TrendHunter.com/id/136302
Star-Studded Decor Services
TrendHunter.com/id/151794

1-for-1 Sport Businesses
TrendHunter.com/id/139932

Branded Bus Rides
TrendHunter.com/id/140713

Haute Couture Water Vessels
TrendHunter.com/id/136983

Curated Ethical Boxes
TrendHunter.com/id/130724

Rice Roll-Making Machines
TrendHunter.com/id/157291

Furniture Store Slumber Parties
TrendHunter.com/id/137262
Boutique Simulation Games
TrendHunter.com/id/161219
Online Coupon Trading
TrendHunter.com/id/114185

Price Drop Tracking Tools
TrendHunter.com/id/163439

Clean Tech for Non-Profits
TrendHunter.com/id/144497

Patient Empowering Video Games
TrendHunter.com/id/126891
Couture Consignment eBoutiques
TrendHunter.com/id/136195

Vibration-Sensitive Racing Apps
TrendHunter.com/id/139055

Motivational Well-Being Games
TrendHunter.com/id/140855
Digital Holiday Donations
TrendHunter.com/id/132680

Reward-Optimizing Payments
TrendHunter.com/id/159199
Millennial Struggle Book Promos
TrendHunter.com/id/163719
---
Copyright
©
TREND HUNTER Inc.
. All Rights Reserved.