---
Self-Mutilation as Art

---
By: Jeremy Gutsche
(Rockstar) Jul 29, 09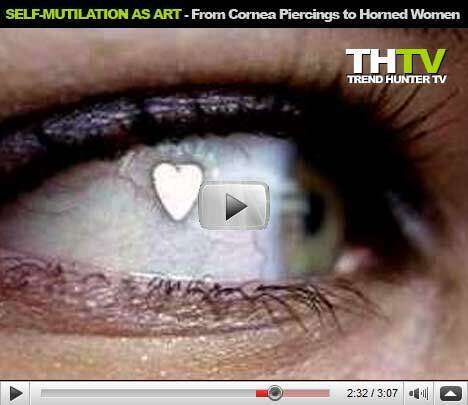 From Human Swings to Horned Women, today we hunt Self-Mutilation as Art.
Now let's take a look at our Top 10.
10 The Kavadi Walk. This ritual is said to help participants seek truth. Apparently I missed the memo that said sharp spears were needed to achieve spiritual enlightenment…
9 Human swings. These masochists pierce sharp hooks through their backs and let gravity do the rest. I bet you'll hesitate a little the next time your friends ask you if you want to "hang" with them.
8 Are body mods with lasers meant for your fingernails. For those of you who want edgy black polish designs etched in your nails to shock mom and dad (but only until they grow out). 
7 Are extreme wince-worthy piercings. People just can't get enough piercings, whether it be dimples, hands or even their Achilles heel. Holy moly! (No pun intended).
•    Pierced Hands
•    Pierced Dimples
•    Painful Piercings
6 Mods mimicking fiction. Wolverine looks like a sissy compared to this guy and this girl has added some charmingly Tinkerbell touches to her ears. Not so charming, however, is the satanic modifications this guy had done… You probably wouldn't want to get on his bad side… 
•    Tinkerbell Ears
•    Extreme Body Modification
•    Satanic Body Mods
5 Horn subdermal implants. This is definitely not what I think of when someone talks about 'Horny Women.'
4 Now organic injections comprised of new cells cultured from babies' foreskins is growing in popularity with wrinkled worriers because regular Botox is so two years ago.
3 If subdermal implants, piercings, tattoos and needles just aren't enough, try inflation. This underground trend is what nightmares are made of.
2 Body Mods for pets. Now your pooch can look as badass as you do.
1 Cornea jewelry proves that beauty truly is in the eye of the beholder.
Video of the day:
Human Branding
Source:
trendhunter

Related Trends:
---
Extreme Body Modification
TrendHunter.com/id/23900

Satanic Body Mods
TrendHunter.com/id/24860

Horned Women
TrendHunter.com/id/40699

Painful Piercings
TrendHunter.com/id/41955
Body Modifications For Pets
TrendHunter.com/id/6941

Self Inflation
TrendHunter.com/id/45663
Pierced Hands
TrendHunter.com/id/41293

Tinkerbell Ears
TrendHunter.com/id/43363

Eyeball Jewelry (UPDATE)
TrendHunter.com/id/42632

Human Branding
TrendHunter.com/id/10730
Pierced Dimples
TrendHunter.com/id/12288

Human Swings
TrendHunter.com/id/44927
Painful Enlightenment
TrendHunter.com/id/45202

Body Modifcations With Lasers
TrendHunter.com/id/21173

Organic Botox Alternatives
TrendHunter.com/id/29893
---
Copyright
©
TREND HUNTER Inc.
. All Rights Reserved.