---
Spoiled Pet Mania
Chicken Flavored Bubbles, Canine Mansions, and Love Dolls for Dogs
---
By: Jeremy Gutsche
(Rockstar) Mar 4, 09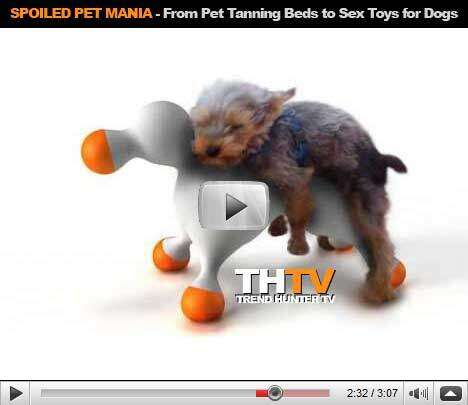 Canine McMansions, chicken flavored bubbles and love dolls for dogs: today we hunt Spoiled Pet Mania.
10. Your dog loves playing fetch, but imagine the fun he'll have with chicken flavoured bubbles!
9. Because no one likes the smell of wet down, get your pooch Sexy Beast cologne
8. Wood paneled houses are so 90s – your pooch would only feel at home in a modern canine mega mansion
7. Whether they're floppy or perky, nothing spices up a dog's ears like magnetic earrings. These are perfect for your spoiled little bitch!
6. Quit giving your dog table scraps – now you can buy vitamin enhanced dog water, Chilly Dawgs, frozen yogurt and cakes for dogs
5. You buy your family gifts for their favourite hobbies, so why not do the same for your pet? Rex will love hanging his head out the car with his very own Doggles!
4. Fake metal Armor: because he only thinks he's fierce.
3. Sometimes the groomers cut a little too close with those sheers, which is why it's fortunate there are now wigs for both cats and dogs!
2. Pet cafes, restaurants, hotels and spas… and yes, even home tanning beds – because no creature should live without luxury pampering.
1. Finally, the product every dog and his owner has been waiting for: love dolls for dogs
This episode was brought to you by AlphaDog PR
Source:
trendhunter

Related Trends:
---

Sex Dolls For Dogs
TrendHunter.com/id/6586

Canine Mansion
TrendHunter.com/id/11302

Wigs For Dogs (Follow Up)
TrendHunter.com/id/8729

Pet Tanning Beds
TrendHunter.com/id/17519

Diamond Earrings For Dogs
TrendHunter.com/id/11756

Canine Ego Booster
TrendHunter.com/id/10276
Pop-Up Pet Restaurants
TrendHunter.com/id/29648

Desserts for Dogs
TrendHunter.com/id/25070

Canine Coffee
TrendHunter.com/id/11279

Fetch A Bubble
TrendHunter.com/id/4766
Luxury Travel for Pets
TrendHunter.com/id/4683

Love Hotel for Dogs
TrendHunter.com/id/5874
Doggles
TrendHunter.com/id/5839

Gatorade for Pets
TrendHunter.com/id/20249
Sexy Beast
TrendHunter.com/id/5572

Cakes for Dogs
TrendHunter.com/id/5323
Frozen Treats for Dogs
TrendHunter.com/id/6355

Oxygen Spas for Dogs (and Owners)
TrendHunter.com/id/20470
---
Copyright
©
TREND HUNTER Inc.
. All Rights Reserved.