---
19 Sarah Palin Protests, Satires, Smears, and Parodies

---
By: Sandra Winn
(Star) Oct 18, 08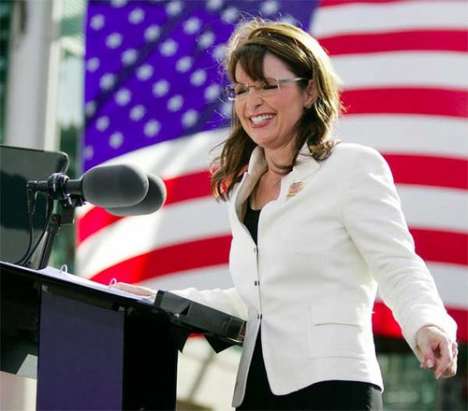 Trend Hunter has provided tons of articles and even a few clusters of governor and GOP vice presidential candidate Sarah Palin.  From articles glorifying her as a hot VP and her fashion sense when it comes to her lipstick, glasses, shoes, and hair to celebrities that support her, we've got plenty of pro-Palin representation.
However, not everyone who has been side-swiped by Palinmania is a fan and we've presented articles that represent that faction as well.  Sarah Palin may like Tina Fey and the parodies she's done but Fey is no fan of Palin.  In a recent interview she is quoted as saying, "I want to be done playing this lady November 5th. So, if anyone can help me be done playing her on November 5th."
It isn't just celebs showing their dislike of Palin. 'Newsweek' is in the hot seat due to their un-Photoshopped, super close-up of Sarah's face on last week's cover.  Sarah Palin look-alikes have been coveted for pornographic movie parodies, as well as for comedic YouTube videos and sketches.   
Considering the popularity of Sarah Palin, the only way she'll stop being on the receiving end of parodies and insults is if she and John McCain do not make it into the White House; otherwise, we've only begun our journey into what will turn into a four-year—or more—field day for Palin supporters and bashers alike.
Source:
trendhunter






Related Trends:
---

Public Heckling
TrendHunter.com/id/27518

Inflatable Politicians
TrendHunter.com/id/27069
Roasted VP Candidates (FOLLOW-UP)
TrendHunter.com/id/26213

Unphotoshopped Magazine Covers
TrendHunter.com/id/27012

Naughty Body Doubles
TrendHunter.com/id/26570

Naughty Political Portraits
TrendHunter.com/id/26503

Sarah Palin Parodies Continue
TrendHunter.com/id/24954

Political Magazine Satire
TrendHunter.com/id/26471

Naughty Political Expression
TrendHunter.com/id/26860

Political SNL Parodies
TrendHunter.com/id/25160

Political SNL Parodies II
TrendHunter.com/id/26276

Political Parodies III
TrendHunter.com/id/26789

Anti-Palin Alaskan Protests
TrendHunter.com/id/25959

Celebrity Political Appeals
TrendHunter.com/id/24881

Political Protests at Sporting Events
TrendHunter.com/id/27249

Beyond Offensive Political Wear
TrendHunter.com/id/27368

Political Wolf Hunt Protests
TrendHunter.com/id/26526

Political Satire
TrendHunter.com/id/26439

Anti-Hockey Mom Movements
TrendHunter.com/id/27239
---
Copyright
©
TREND HUNTER Inc.
. All Rights Reserved.