---
Random Awesome in NYC
From Bouncy Rides at Night to Space Buster Bubble Parties (THTV)
---
By: Jeremy Gutsche
(Rockstar) Jun 25, 09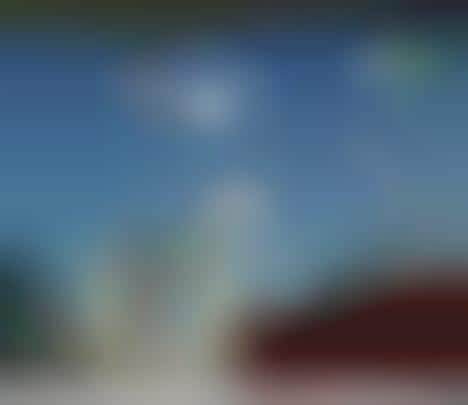 Gigantic bed jumping, subway bouncing and drinking beer from baby bottles. Today we hunt: Random Awesome in NYC.

10. Miss bouncing on Santa's knee? 'Club Animals' is here to help! The social network is offering free bouncy rides on the knees of promoters in furry animal suits for clubbers on their drunken subway ride home.
9. Ever wanted to jump in bed with a cute stranger? Intercontinental Hotel got 20,000 people bouncing on gigantic beds in Shanghai, Paris, London and NYC, complete with cheesy music and Olympic athletes. It was all done to promote free stays in 5 million hotel rooms… bouncing girls not included.
8. Street artists in NYC are igniting their work with flair. They smother tags with lighter fluid, then set them ablaze at night, using YouTube to display their butane masterpieces. In this game of tag, I never want to be "it"...
7. Who says you can't have fun for a dollar? Dollar Van Demos is targeting cash-strapped New Yorkers in search of amusement; for just one dollar, budgeting commuters can enjoy a ride with a live comedian or singer desperate to show off talent.
6. Street artist Adrian wanted to clean up NYC so he started The Trash: anycoloryoulike Project. The pink garbage bags are 100% biodegradable, ward off insects and add a splash of fun to an otherwise grubby urban eyesore.
5. The Hipster Winter Games, or Idiotarod (idiot-a-rod), include random competitions like shopping cart races that see people in Justin Timberlake hats and skinny jeans racing their way down streets of New York.
4. The New York Jedi Academy has spurred a fitness craze to get you far, far away from the Dark Side that is your laziness. Star Wars trainers inspire their clients to workout in the middle of Manhattan, unlocking the Force for a fit body.
3. David Blaine cheated death by hanging upside down over Central Park for a shocking 60 hours, dangling five stories in the air without a break. I just want to know: how did he go to the bathroom?
2. Every wanted to ride your stereo? Kids in Queens built what they call "stereobikes" by pimping bicycles with car speakers. Their goal was to create an "outrageous impromptu music and a dance party on wheels"...
1. La Cave des Fondus makes it socially acceptable for you to suck on nipples… baby bottle nipples, that is. The underground restaurant serves wine and beer in baby bottles which is probably a bad idea for a first date… and for those trying to wean off alcohol…
VIDEO OF THE DAY: Nudevertising Music Videos
Source:
trendhunter

Related Trends:
---

Pimped BMX Bicycles With Subs
TrendHunter.com/id/22914
Nudevertising Music Videos
TrendHunter.com/id/42884

Illusionists Stunts
TrendHunter.com/id/25851

Polka-Dotted Trash Bags
TrendHunter.com/id/26209

Movie-Inspired Exercise
TrendHunter.com/id/36824

Flaming Graffiti
TrendHunter.com/id/39954

Shopping Cart Racing
TrendHunter.com/id/34779
Baby Bottles For Booze
TrendHunter.com/id/35589

Global Bed-Jumping
TrendHunter.com/id/41749

Mascot Riding
TrendHunter.com/id/43059

Live Entertainment Taxis
TrendHunter.com/id/40036
---
Copyright
©
TREND HUNTER Inc.
. All Rights Reserved.