---
Earth Day Eco Innovation
Green Inventions to Celebrate Earth Day (THTV)
---
By: Jeremy Gutsche
(Rockstar) Apr 22, 09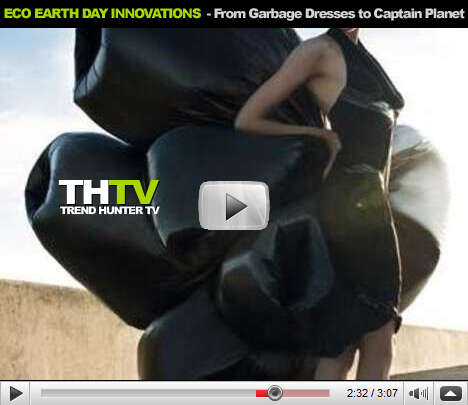 Garbage bag couture, Captain Planet and White House Locovores. Today we hunt Eco Innovations to Celebrate Earth Day!
10. Ladies, it's time to get trashy! Michelle Jank and photographer Paul Scala turned garbage bags into beautiful dresses for this editorial. Where is Zoolander when you need him?
9. The GM Puma is a two-wheeled electric car that will hit a top speed of 35 mph with a 35 mile range. As Going Like 60 said, "GM has seen the future and it is the Segway."
8. Even the Obamas are going green! The White House has its own patch of organic veggies that will feed the first family AND will teach local school children about sustainable eating.
7. First we saw DIY roll-on solar shingles, now we see the snap-together, plug-and-play design from Veranda Solar. I guess these days, it's easy being green.
6. The 60 ft 'Plastiki' catamaran stays afloat thanks to 12,000 recycled plastic bottles! There aren't messages in these bottles; the bottles ARE the message: GO GREEN!
5. The wind-powered 'Greenbird' car was designed by Richard Jenkins and can travel over 125 miles per hour. The carbon fiber composite vehicle, which uses a wing instead of sail, broke the world land speed record for wind-powered vehicles.
4. Look out: Captain Planet is back from the 90s! The green, mullet-sporting superhero is back thanks to MNN, bringing eco-tips from Levar Burton, Danny Glover, Whoopi Goldberg, Jeff Goldberg, Helen Hunt, Meg Ryan, Sting and Elizabeth Tailor.
3. Don't laugh! The Speedfit might look ridiculous, but the eco-friendly mobile treadmill by Olympic medalist Alex Astilean might be exactly what our junkfood loving culture needs!
2. The Vancouver 2010 Olympics might not have gigantic bubble architecture like Beijing did, but with living roofs and ocean heating, it'll be the greenest Olympic architecture yet!
1. Earth Hour 2009 saw 3,929 cities in 88 countries turn off their lights, including 996 global landmarks like the Great Pyramids, the Eiffel Tower, the Vatican, Acropolis, Big Ben, the Las Vegas Strip, Empire State Building and the Bird's Nest stadium in Beijing.
VIDEO OF THE DAY: HONDA let it shine
Source:
trendhunter

Related Trends:
---

Garbage Bag Fashion
TrendHunter.com/id/39948

Wind-Powered Speedsters
TrendHunter.com/id/39390

Green Olympic Architecture
TrendHunter.com/id/40241

Crazy Recycled Catamarans
TrendHunter.com/id/39211

Simple DIY Sun Power
TrendHunter.com/id/40157

Single Serving Cars
TrendHunter.com/id/39762

Crowdpowered Transit
TrendHunter.com/id/38824

Eco Superhero Comebacks
TrendHunter.com/id/36741

Large-Scale Coordinated Car Ads
TrendHunter.com/id/39116

White House Locavores
TrendHunter.com/id/39290

Collaborative Global Eco Stunts
TrendHunter.com/id/38373
---
Copyright
©
TREND HUNTER Inc.
. All Rights Reserved.